MUST HAVE For him Alexander McQeen X Globe Trotter luggage set
25/01/2018

Premiere Magazine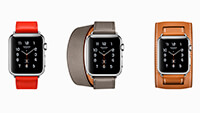 Famous designer of accessories, premium travel globe trotter and icon, Alexander McQueen, has created a limited series of luggages consisting of a 21-inch suitcase on wheels (trolley) and a 13-inch diplomat utility case. Finished by hand in studios in England, the Trotter bags are decorated with silver studs and riveting with skull padlocks used to secure the strap. The case is lined with a signature print of black skull and ivory.
Bentley and Golf
Bentley has unveiled, for the first in its history, a collection of equipment for golf. These instruments are made by hand with the use of advanced technology and provide the highest degree of individualisation to customers. The exceptional quality and attention to detail present in the new Bentley Golf Collection makes their clubs, bags, luggage trunks and accessories the epitome of prestige and privilege.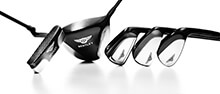 Of note, the metal parts are forged by hand in Ichikawa (Japan), a city with a tradition of blacksmithing dating back to the era of the advent of samurai swords. The new collection strives to incorporate design elements typical of Bentley cars, with products emboding recognisable touches of the Continental GT and the Mulsanne silhouettes.
www.bentleygolf.com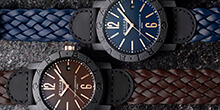 Bvlgari Carbon Gold — Exquisite Mix of Carbon Fibre and Gold
The watch company Bvlgari has introduced three new models of Carbon Gold. The new Bulgari (Bvlgari) Carbon Gold offerings are created with different colour combinations: black, brown and blue. In all three versions, the gold hands and hour markers are reminiscent of the jewellery manufacturer's heritage. The strap also has its own history. In 1975, the very first watches of the Bulgari Roma series were released in small quantities. They could be bought only by VIP customers on Via Condotti in Rome. The watches were attached to the wrist by means of a strap of braided hemp and leather. The new model follows the intricate weaving strap, but this time it is made entirely of leather.
When Technology Meets Classic
Apple has, in collaboration with the legendary French fashion house of Hermès, developed the Apple Watch Hermès Smartwatch. Taking the «normal» model of the Apple Watch, fashion designers have equipped it with three kinds of leather straps of different colours (Single Tour, Double Tour and Cuff), while the metal elements and the rear cover are branded with the engravings of Hermès. In addition, Apple engineers have added new dials, made in the style of the brand and decorated with an exclusive print.
www.apple.com/apple-watch-hermes/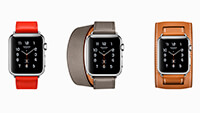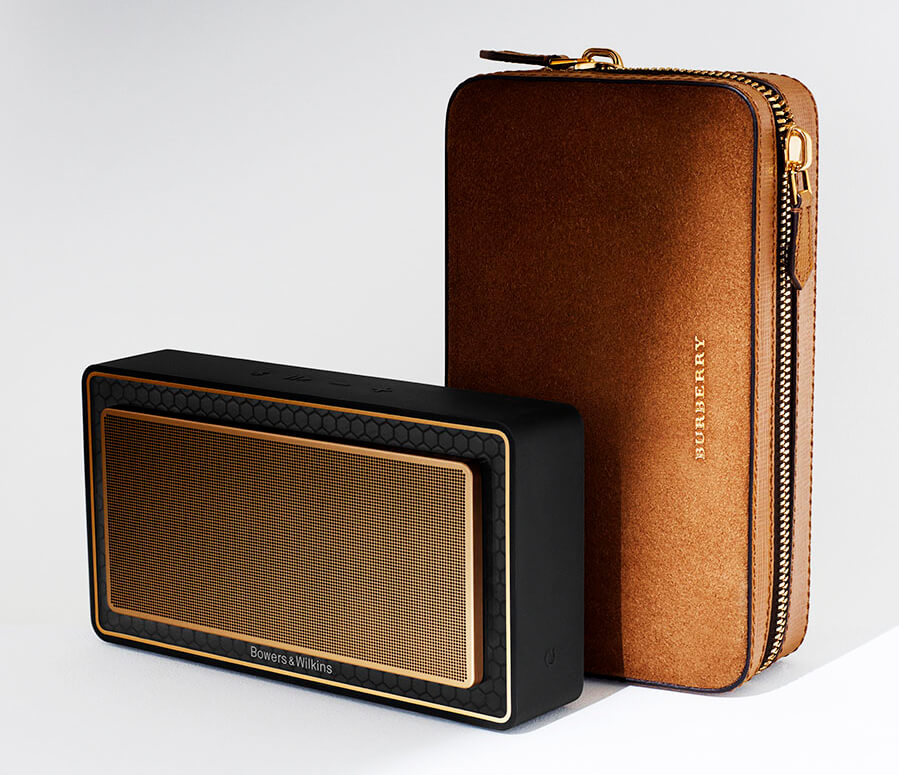 Musical Gift from Bowers & Wilkins in Case Burberry
Portable Wireless Speaker System T7 Gold Edition was released by Bowers & Wilkins and is equipped with Bluetooth aptX® high resolution for crystal-clear sound. It can receive streaming music directly from any Bluetooth-enabled PC, tablet or smartphone, without any network Wi-Fi. The unique dynamics allow the instrument to work 18 hours on a single charge. The column is placed in an elegant travel case made by Italian craftsmen using sketches of British designers. The case is available in two versions. You can choose from tan suede or black leather, with a protective suede lining.