Mercedes Benz – S Class Cabriolet 2017
26/01/2018

Premiere Magazine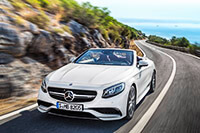 For the first time in 44 years, Mercedes has made a major development on the platform of the flagship S-class Coupe. According to the manufacturer, it is "the most comfortable convertible of all those existing in the world" and can be compared to a cruise boat in style and luxury.
The design appearance has been crafted by the best German craftsmen and it shows in every nuance of the impressive body. On new S-Class convertible looks like a copy of the original coupe, except for the presence of the top of the fabric, which can be completely folded down in the luggage compartment within 20 seconds. When ordering a car, the buyer can choose from one of four options for the colour of the soft dome roof: beige, dark red, dark blue or black.
The saloon car is equipped with a modern air conditioning system, known as Thermotronic, which automatically creates a constant optimal temperature irrespective of the position of the roof. The safety of passengers in the cabin is provided by arc security and is positioned behind the rear row seats. In the event of a rollover, these arcs are pushed forward and take the entire burden onto themselves, allowing for fewer injuries to the passenger.
The interior is finished with natural leather and wood features, a premium audio system Burmester and a modern multimedia complex with a touch screen for the front of the cabin and a pair of colour screens for rear seat passengers. As well, there are heated seats, ventilation and massage options (settings).
Installed under the hood of the convertible is a 455-horsepower, 4.7-litre eight-cylinder engine that provides impressive power, with a modern automatic 9G Tronic transmission. Acceleration to 100km/h takes only 3.9 seconds. Also available, in a modified version, is the S63 AMG, with a twin-turbo, 5.5-litre 585-horsepower V8 engine. In the near future, Mercedes aficionados can anticipate the debut of the most powerful version of the new convertible – the Mercedes-AMG S 65 Cabriolet, with a 6.0-litre, V12 bi-turbo, petrol capacity machine housing an astonishing 630 horsepower engine under the hood.