Love Story Maria Callas and Aristotle Onassis
25/01/2018

Premiere Magazine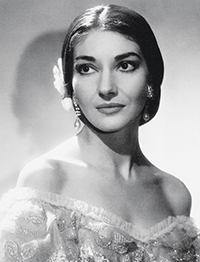 This story is similar to an obsession. She is a world opera star, the owner of the voice of the century Maria Callas. He is the richest man in the world, Aristotle Onassis, and between them an incredible story of love, which they carried through their lives.
One of the richest men on earth, the Greek billionaire Aristotle Onassis grew up independent, confident and, from an early age, was obsessed with the idea of success and making a huge fortune. By the age of 32, Onassis had already made several hundred thousands of dollars, thanks to numerous deals. He made his fortune by selling oil, but was not going to stop at that. He was always surrounded by the most beautiful women, mostly from wealthy and influential communities, as he recognised that familiarity came with its benefits.
Even after his marriage to a young Greek woman with a more than generous dowry (Tina Livanos) and the birth of two children (a son named Alexander and a daughter named Christina), his story of adventure continued. In fact, he fell in love for real when he met opera singer Maria Callas (1923-1977) and the entire world applauded.
Maria Callas (Anna Maria Sofia Cecilia Kalogeropoulos) was born in New York to a family of Greek immigrants. When she grew up, she became successfully and happily married to a wealthy Italian industrialist, Giovanni Battista Meneghini, who was a great lover of opera, a faithful spouse and a generous producer. The first time Onassis and Callas met was at a lush Viennese ball, but they attached little importance to their acquaintanceship at the time. After a while, Onassis went to one of her concerts and then invited the opera diva and her husband onto his yacht, christened the "Christina". It was floating in the Mediterranean Sea and impressed the world with its grandeur and luxury. On that day, Onassis and Callas forgot all decency and revelled in a common love in front of their spouses and guests. After a momentous reception on the yacht, where Onassis "watered her with bitter Greek wine from his hands", what followed was a ball in one of the most expensive London hotels, arranged by Aristotle in honour of Callas. He literally showered her with bright red roses.
Mary had seen a lot of eccentric fans in her career, but she fell in love with him and left her husband, filing for divorce. Because of strict Catholic traditions, the process took some time. Onassis's wife also filed for divorce. The lovers were free and went to live in Paris. Maria stopped singing and decided to devote her life to her beloved. However, life did not go well together. Every day, Aristotle turned into a rough and despotic roommate. He insulted Mary, often humiliated her in front of his friends, quarrelled with her and often beat her. The more Callas suffered, the more it provoked even greater attacks of aggression from her lover.
In 1964, the lovers spent the summer on the island of Scorpio, which Aristotle promised to give his beloved as soon as they were married. Two years later, when she was 42, Mary told him that she was expecting a child, but Aristotle forbade her to give birth. Mary, afraid of losing her loved one, did not dare to oppose his will. She soon greatly regretted her decision. In 1968, Maria was waiting for the next blow. She knew from the newspapers that Aristotle Onassis had married the widow of shot U.S. president John F. Kennedy. Her name was Jacqueline Kennedy. The marriage to Jacqueline Kennedy took place on the island of Scorpio; the island that Aristotle had once promised to give to Mary. When this news reached Callas, she uttered the prophetic words: "The gods are valid. There will be justice in the world."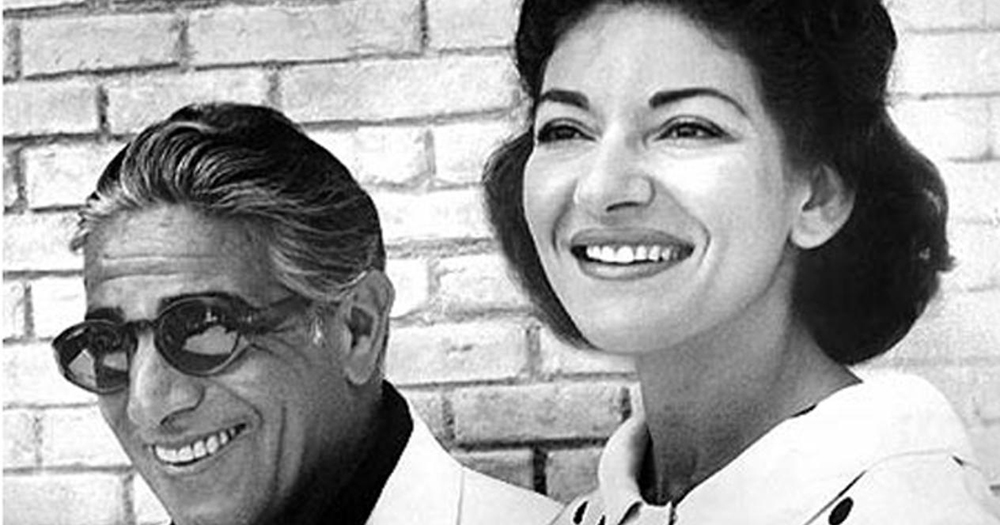 Betrayed by Onassis, she withdrew and no longer left her apartment in Paris. A month later, Onassis arrived in Paris and begged for forgiveness, assuring her that this marriage was just a bargain and that it had nothing to do with feelings or attitudes. Maria forgave him again. Again, he spent his time with her and appeared in public with her, making no secret of is love and support for the warmest relationship with this Greek beautiful woman.
Marriage of an aging billionaire began to bulge at the seams because of the voracious and wasteful Jacqueline, who toured the world spending a huge amount of money for entertainment, furs, jewels and luxurious dresses; hundreds hanging in her closet unpacked.
This did not make Onassis very happy and he seriously thought about divorce. He might have carried out this undertaking if not for the death of his favourite son, Alexander, who was killed in a plane crash. The prediction made by Mary had happened. From that day, everything stopped existing for Aristotle and his life lost its former meaning. Now, he simply lived out the rest of his life and he rarely found joy in the company of his beloved Maria. In March 1975, Aristotle Onassis died. They said that at the last minute, he called only for Mary. When Jackie Kennedy knew of the death of her husband, she immediately ordered a Valentino collection mourning dress.
When this news reached Callas, she said: "I can only die now". Maria retreated to the Paris apartment, feeling like a true widow. "Nothing has value anymore because nothing will ever be the way it was … without him."
On September 16, 1977, Maria Callas died suddenly and mysteriously at the age of fifty-four years. Was it a natural death or murder? This is still not completely known. Strangely, her death was complicated by the fact that, having earned a huge fortune, she did not leave a will. All of her immense fortune, which was about $12 million, was given to two of her worst enemies: her ex-husband and her mother.
Her last wish was to have the urn with her ashes immersed in the sea at Skorpios, known as the Greek island of love. This is where her Aristotle was buried. Sadly, this last wish was NEVER executed.