Leonid Parfenov: "Indifference is the end for a journalist"
08/09/2019

Premiere Magazine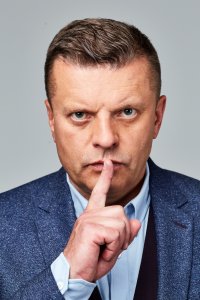 Since the beginning of the 90s, Leonid Parfenov has, without exaggeration, been all over every television – and, for some time, has penetrated the internet. A journalist outside the system, himself a founder and editor, with the broadest erudition and a powerful TV background, such a video blogger will always have something interesting to offer to his audience.
In an interview for our magazine, Leonid Parfenov told us about his career in journalism, the incompatibility of professionalism and indifference and a little about food. But, most importantly, he voiced his 'programme guide' for the next year.
Leonid, you can say that you have been in the profession all your life. At the age of 13, you were already published in regional newspapers and the first journalistic award was a trip to the children's camp 'Artek'. How did you decide to start and then continue?
I just can't do anything else. From childhood, I liked to add and rearrange words so that the meaning would arise and change; and so, it went and went. At first, yes, there were newspapers. They are technologically simpler. I graduated from the faculty of journalism in Leningrad (ex St. Peterburg), and then, television. The truth that journalism makes the significant interesting is still easier to incarnate if the words are accompanied by a picture. Therefore, I have never worked only on the radio – I do not understand its solitary value.
What is our profession for you? How often did you have to risk, go against the system, defending your right to call a spade a spade and talk about what you believe in?
I do not like these conversations about the craft as a feat. The miner, if he chose this profession, will not complain that it is underground. Independent editorial policy is a prerequisite for journalism, otherwise it's about propaganda. I have been working "from myself" for the last 10 years: I am publishing books and films as an independent author, so I'm out of the system. On YouTube, you can be a content producer, a broadcaster and, here, everything depends on your choice. You can talk about what you believe in – well, perhaps there is some kind of risk in this. Or – do not say – do not take risks! Do not engage in this matter! But, if you have really connected your life with it, do not declare that it is heroic.
You had a chance to work with the legends and masters of national television journalism, from Vladislav Listyev to Vladimir Pozner. Who do you consider your teachers? How did you search for your niche and your topics?
As I said, I was not taught television, where I have worked most and continue to work and to write books. Also, already 8 parts of "The other day" have been released. Your themes, style – well, if they are really yours, then they are always with you. And then, it all depends on two professional skills: mastery of the craft (to create projects and be interesting to the audience) and the ability to continue to "generate" these topics and maintain this style. That is, not to "write out". But, one and the other are not defined by you as an author, but by the consumer of your content; that same audience.
When reviewing your beautiful documentary and historical films, I catch myself thinking that the past you are describing is much more attractive than our modern times. Recall the other days, the programme 'Russian Empire' and many other TV programmes. You immerse yourself in the era and lead the viewer, and you get the feeling that, in the past, you are much more comfortable than in the present. Is it so? What age of man do you feel yourself?
No, I'm not that kind of chronological maniac to moan "I want to be in the XIX century!" – I'm a man of my time. You can talk passionately about the past if it is alive and able to say something to the present that is still relevant. And, we are conducting the stories about such a "non-passing" story, with today's methods of filming at the scene of events, with game reconstructions, intensive editing, video graphics and so on.
You made films about great Russian writers ("The Life of Solzhenitsyn", "The Age of Nabokov", "The Living Pushkin"' & "The Bird Gogol"). Who do you consider your favourite author? Whose books are you reading today?
So, I read them – how can I shoot about the unloved? But, lately, I almost do not read fiction, only non-fiction. From the books that have been particularly impressive lately, I will name the "House of Government" by Yuri Slezkin. In my opinion, this is the best study of the Soviet system, and very bright and lively; probably because the author first wrote the English version, and then Russian. Our non-fiction literature has not yet learned how to be fluent and fascinating.
You always have your own "special look" on everything. How do you manage to be yourself, not portraying anything or anyone? Did you envy anyone in life? What are you sorry for and what are you proud of?
I am not inclined to introspection. I accept myself as I am.
As for envy – no, I do not envy. Well, maybe only one – if I had a lot of money, I would buy a lot of art. But, since I don't have money for, let us say, painting of the Silver Age, I'm satisfied with drawings and lithographs of the later times. Nothing wrong!
How did you get the idea to make a new documentary project, "Russian Jews"? In one of the interviews, you mentioned that the sequel should continue and there will be films about Russian Germans and Georgians ahead … Tell us more about it.
This is my old idea: to make projects about the Russification of the leaders of the three nations who, at different stages of our history, came to the Russian life especially massively and vividly. They expanded and enriched the concept of "Russian" – "Russian Jews", "Russian Georgians" & "Russian Germans". At one time, in the elites, in the capitals, they became the second titular nations. Others, of course, also Russified, but only those who came from these three nations became, along with the Russians, the rulers and co-rulers of the whole country; be it the Russian Empire or the USSR. The three films "Russian Jews" came out and only on my YouTube channel (Parthenon) and have already collected over 5 million views. The first of the two films, "Russian Georgians", will be ready by the end of this year.
We know about your wife's culinary talent. Together, you have released a collection of recipes, "Eat!". Are you cooking, too? What do you like most about food and drinks? "Happiness is" – what is it for you?
This is a way to get to know the world because local products are what are called the "salt of the earth" in Russian. And, a meeting with the best chefs from various schools, from Danish René Redzeppi to Hawaiian Alan Wong, is a wonderful opportunity to taste the homeland of each of them, literally to your taste. And, already three great Mediterranean gastronomic powers – France, Italy & Spain – without a kitchen, cannot be understood at all. There, it is part of a national idea, and it is very different depending on the region.
I, myself, do not cook. I just try and comment. And, I am a sommelier of our meals. And, I can serve the table – that's all. And, Elena feels for the product and knows a variety of technologies. It's like music – a hearing given from nature; a technique from a performing experience.
Having given television three decades of your life, you went to the internet, became a blogger and now run your own channel on YouTube. How comfortable are you in this new format? Do you miss TV?
What to miss? Now, I am shooting more than when I worked as an employee in the TV company. And, the programmes of the studio, "The Other Day", are becoming more skilful, I think. These are "national" projects – we haven't yet produced anything bigger. And, the YouTube series "The Other Day", which came out already in six parts before the summer and will be another nine before the New Year, is made with the essential standard of quality. YouTube is a technology for delivering a project to an audience, but the content creation tasks remain the same, and the issue of the Parthenon is a blog; a different format of dialogue with the audience, which is more direct and personal. Well, it's great that it appeared, but, again, the task is the same – to create and broadcast high-quality content that is interesting to the viewer.
You have seen and know so much – can something else or someone surprise you?
Yes, of course, otherwise I would not have worked as a journalist. To learn, to see, to be impressed and to broadcast  this to the audience – without this, my profession is impossible. If you, yourself, are no longer surprised, then rejoice in something new – what can you convey to others? People, their work, achievements, civilization and accumulations over generations are inexhaustible impressions, if only you are not indifferent. This indifference is the end for a journalist.
On your website, you call yourself a "pampered man". Since you have been doing only what you want for 15 years, is there a feeling that something important in life must still be done?
I also work by myself on my own. But, in my work, I am more interested in movement than in goal. Of course, one must be technologically advanced and do not delay projects, but the sum of the projects that have come out does not have any particular meaning. I do not make any special plans. There are at least two more parts of "The Other Day", a new season on YouTube and the end of "Russian Georgian"'. That is, 2020 is busy to the eyeballs. I have more than enough of this perspective.