Kormaran – luxury transformer
25/01/2018

Premiere Magazine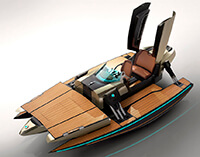 An Austrian company has developed one of the most versatile means of swimming ever to dissect the open sea. The high-tech ship called Kormaran transforms into six different configurations just with the push of a button while in motion, changing from an elegant day boat to a unique sunbathing island. The 7 metre vessel in hydrofoil form can reach a top speed of 70km/h and travel for 200 km without refueling. The outstanding design and the sophisticated high-end technologies such as carbon fibre Formula 1 technology captured the essence of the genuine spirit of racing in Monaco.
The driving (powerboat-like) catamaran mode, using both hull engines with two jet drives, gives the super sports car cabriolet driving sensation, combining the agility and stability of a catamaran.
At low speed, the gliding (trimaran-like) mode is enabled, transforming the vessel into a real eye catcher, elegantly and smoothly gliding. Height adjustment allows you to avoid waves hitting the central hull or the platform and navigates shallow waters even with optional hydrofoils.
A take off (flying) with the Kormaran is an absolute unique experience, using the optional hydrofoil system with a third central engine, which provides a powerful central water jet. Flying at up to one metre above sea level provides a jet plane feeling with a smooth and comfortable ride. At night, the special light design makes the Kormaran appear like a comet.
Opening the bathing platform and the butterfly wing doors with their running boards, the Kormaran can be elegantly transformed into a luxury island with a multi functional platform for sunbathing, diving and swimming, partying or just chilling in a comfortable lounge (breath taking mode).
The essence of the Kormaran is to transform and convert itself. The Kormaran Transformation System is a groundbreaking innovation, a legendary mythical creature, which performs a metamorphosis (Greek mythology: transformation) at its owners wish.
The Kormaran satisfies all requirements of comfort, high-tech, quality and even the demands of performance for sportsmen. Superyacht experts admire the extraordinary design and the absolutely unique level of quality.
The boat is priced at about $1.5 million.