26/01/2018

Premiere Magazine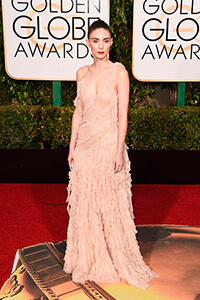 The 73rd award ceremony known as the "Golden Globe 2016" was held on January 10th at the Beverly Hilton Hotel in Los Angeles. The leader in nominations was a drama titled "Carol". With a total of five nominations, expectations were high, but, in the end, it shockingly received no award recognition. The snub was controversial to say the least.
The main roles in the motion picture "Carol" were assumed by Cate Blanchett and Rooney Mara, who fought for the title of "Best Dramatic Actress" at the awards ceremony. Eventually, the prize went to Brie Larson. In a film adaptation of the famous novel by Emma Donoghue, "Room", Larson played a girl named Ma, a 19-year-old who was kidnapped and locked in a room, eventually having a son, Jack, who had never seen the outside world.
The major winners of "Golden Globe 2016" were "The Revenant" and "The Martian". The prize for "Best Dramatic Actor" went appropriately to Leonardo DiCaprio, who played the main role in "The Revenant". The film also received a statuette in the category of "Best Dramatic Film". For DiCaprio, this award was the third "Golden Globe" of his career, after "The Aviator" and "The Wolf of Wall Street".
The award for "Best Motion Picture, Musical or Comedy" went to the film "The Martian". Matt Damon, who played a major role in it, won the prize for "Best Actor in a Comedy".
The most highly-discussed category became "Best Actress in a TV Movie or Mini-Series". The main contender for the title became Lady Gaga and, upon receiving the award, she appeared both surprised and overwhelmed by the honour.