First Sunseeker MTU Yacht
26/05/2019

Premiere Magazine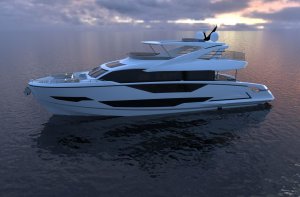 The British shipyard Sunseeker and Rolls-Royce signed an agreement to jointly build a boat with the first Rolls-Royce propulsion unit.
The presentation of the hybrid installation itself took place at the annual yacht exhibition boot Düsseldorf 2019. The shipyard Sunseeker has long been a leader in the industry, entering the market with innovative developments. This time, Sunseeker engineers presented the latest hybrid technology that will improve the performance of the propulsion system of the yacht and reduce its noise.
The new yacht will have a fully integrated hybrid propulsion system, with MTU 2000 series engines. It will consist of two MTU 2000 12-cylinder diesel engines (each with a capacity of about 1,432 kW/1947 hp), onboard generators, electrical power modules, systems transmissions, batteries, control and monitoring systems that can be expanded on a modular basis. Such a hybrid power plant provides a choice of several operating modes: from a fully electric mode with zero emissions to the most efficient use of two 12-cylinder diesel engines, providing excellent performance in its class.
In "electric mode", yacht engines and onboard power can be continuously supplied by generators, ensuring optimisation of fuel consumption and comfort on board during long and night transitions. In the "quiet" mode, in which energy will come only from a pair of batteries, the boat can spend 40 minutes in motion and another 120 minutes at rest.
A ship with a hybrid electric diesel engine is planned to be launched in 2020.