Fascinating Spirit of the Past: Vintage Perfume
25/01/2018

Premiere Magazine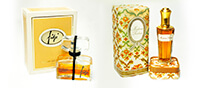 Vintage — a revival of the old traditions in vogue. Earlier, this style prevailed only in clothes. For example, in America, vintage clothing is now very expensive and quickly sells out its stock. Now, vintage can be had in things as eclectic as handbags, accessories, hats and perfume. In recent years, this way of nostalgia has led the art of perfumery into a whole new direction.
Which Perfumes Are Called Vintage?
Vintage deemed perfumes are those which were issued more than 25 years ago. 80% of these perfumes, for one reason or another, have been taken out of production by the company itself. Interestingly, it is not only the perfume, but also the bottle that is considered prized for its rarity and glamour.
For one reason or another, many of our favourites have disappeared from shelves over the years: Climat Lancome, Madame Rochas, Fidji, J'ai Ose and many others. This may have been, in part, a result of a ban on the use, in perfumery, of ingredients of animal origin. Still, the main reason must have been the high price of key ingredients because, usually, the perfumes of the past made liberal use of a lot of natural oils, known as «absolutes» or essential oils. These oils are now incredibly expensive to source.
Production of well-known names has become more popular and cheaper, but the charm and aroma that were originally created by master perfumers may be gone forever.
Vintage — is not only perfumes that were made earlier and are no longer available. This category of fragrances includes perfumes that were released a long time ago, but have not been taken out of pro­duction because of extraordinary popularity. Among these vintages is Chanel No. 5 from Coco Chanel, Lily of the Valley vintage fragrance and Red Moscow Krasnaya Moskva Novaya Zarya for Women (New Dawn). As well, there is the famous Polish perfume, «Maybe Lauretta Larix».
How Are They Preserved?
It is often believed that perfume compositions are quite fragile and not conducive to long storage. In fact, this is not the case. When provided with the right conditions, these vintage perfumes do not spoil or lose their original smell, especially if the vial is kept in sealed packaging. Thanks to their high-quality natural ingredients, like amber and musk, these perfumes can be perfectly preserved. The alcohol may be a little out of steam, but the concentration of other valuable components will only intensify.
Age-specific vintage perfume can reach a hundred years, subject to the conditions of storage (a dark, cool place and sealed within a wax tube). If properly stored, they will not lose their richness, not even the slightest nuances. Such perfumes that have been well-stored are the envy of collectors. A bottle of vintage perfume, on the internet, can command a price tag of $100- $200 on a good day, depending on the rarity and prestige of the name.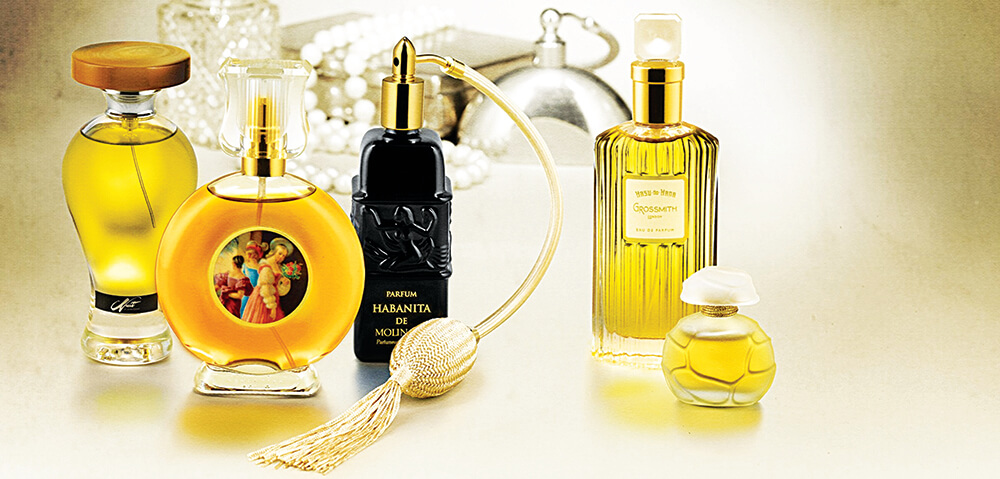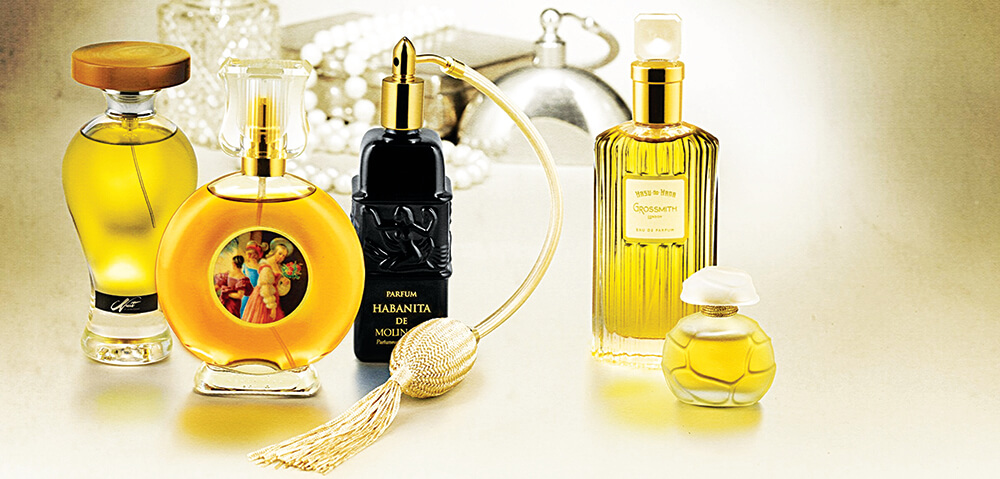 Smell the History
Perfumes should reflect their era and act as a sort of mirror of time. The perfumes that have their own distinct past are precious and, today, women are willing to buy them without hesitation.
A huge number of vintage perfumes can be recognised by their scents and that flavour of their own distinct history makes them valuable and in demand. Many of these wonderful perfumes were worn by famous personalities of a bygone age and, although some of these celebrities have been forgotten by many, their connection with a fragrance has kept their names on the tongues of many others.
Luxury British perfume house Penhaligon has long created fragrances for the royals. The trading house Acqua di Parma was the distinct favourite of such celebrities as Ava Gardner and Audrey Hepburn. Now, we must create our own opinion about these ranges of perfumes and scents.
Vintage Perfume Today
In Europe, aged perfumes are more common, but come at a fairly high cost. In Russia, vintage perfumes have already become quite common. Now, we can easily buy a vintage fragrance from brands such as Dior, Caron, Guerlain, Chanel, Creed, Acqua di Parma, D'Orsay and Roger & Gallet.
Many international stars are partial to perfumes created in past decades. For Giorgio Armani, it happens to be Knize Ten, created in 1931. Karl Lagerfeld loves Penhaligon's Blenheim Bouquet, developed 150 years ago. The main thing to keep in mind is that perfume should complement you, not just be a fashionable trend of our time.
When buying a vintage perfume with a favourite scent, please be sure to check how tightly it has been stoppered. With really old and rare perfumes, it is often secured with wax, which guarantees quality by completely blocking outside air and contaminants.
If you are interested in vintage perfumes, delivery to Cyprus can be arranged. Please contact:
www.isenses.ru
email: info@isenses.ru