19/05/2018

Premiere Magazine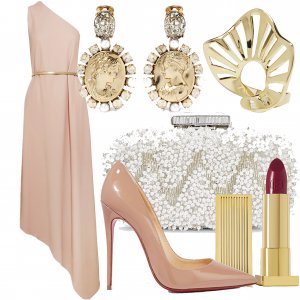 Understanding the conventional styles of clothing and recognising them is not easy, but it is not so difficult either. You should be able to distinguish between saying something is "not effective enough", "looks good", is "too smart", etc. In the modern world, fashion is not so important and you can normally simply dress "smartly" for a formal event, but there are exceptions; times when you need to strictly follow a dress code. Often, there are parties and corporate events with a mandatory dress code, which is indicated in the invitation. For example, you may read "Creative Black Tie", which, of course, can be "dressed up" with the aforementioned black tie (surprising everyone at the celebration), but, in reality, it has little to do with the tie. The reality is much more complex. To date, the 8 most commonly used types of dress code are:
White Tie, Black Tie, Creative Black Tie, Cocktail, Lounge Suit, Business Formal, Business Casual and Smart Casual.
White Tie
This dress code is the most strict and formal. Its laws are unchanged from the 50s of the 20th century. If you are lucky enough to be among those invited to a party with this dress code, rest assured that you will be attending a luxurious event. Men will have to look for the ultimate formality (tuxedo) or a three-piece suit, adopting a snow-white shirt, a white bow tie and patent shoes. Women are encouraged to wear a long formal dress with no extra details, with open shoulders. You can add long gloves that carry up to the elbows. Additionally, women should wear close-fitting stockings and may choose to add a hard clutch bag or minodier to their outfit. Shoes can be on either high or low heels. If a representative of the beautiful half of humanity has long hair, then they must gather it up in a sophisticated fashion.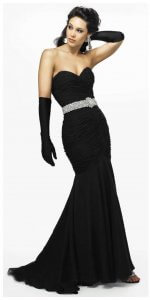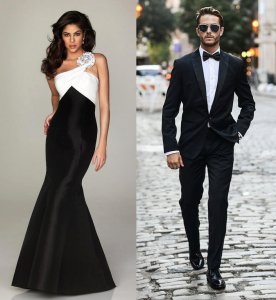 Black Tie
This option is also formal, but less conservative than "White Tie". Apply this dress code more often than others, like at parties, concerts and special holidays. The dresses, of course, remain long and monophonic, but now they can be decorated with pawns, glass beads, crystals, embroidery or lace. The main thing is soft, muffled or pastel colours and of course red colour. Red is allowed in all its shades. Men are offered a black tuxedo or suit and a black tie or a butterfly, with fashionable and, most importantly, non-varnished shoes.
Creative Black Tie
Seeing in the invitation the word "Creative" is just that, at this event, there are no strict 'Black Tie' rules. It is allowed to wear something of a bright colour or unusual style, but, at the same time, one must remain conservative. For example, the dress can be made entirely of lace or with an interesting print. One can even wear a dress-tuxedo, a trouser suit or overalls. In the case of choosing quiet colours, you can always work with accessories, creatively approaching the available choices. Bright shoes, an unusual clutch and/or fantasy jewellery will be very welcome. Men are allowed to wear a one-colour suit of any shade and a matching tie or butterfly. Be that as it may, in general, the image should not be personified by everyday life, and even bright colours and styles should be kept elegant.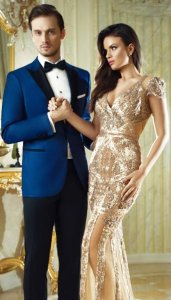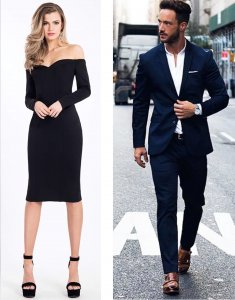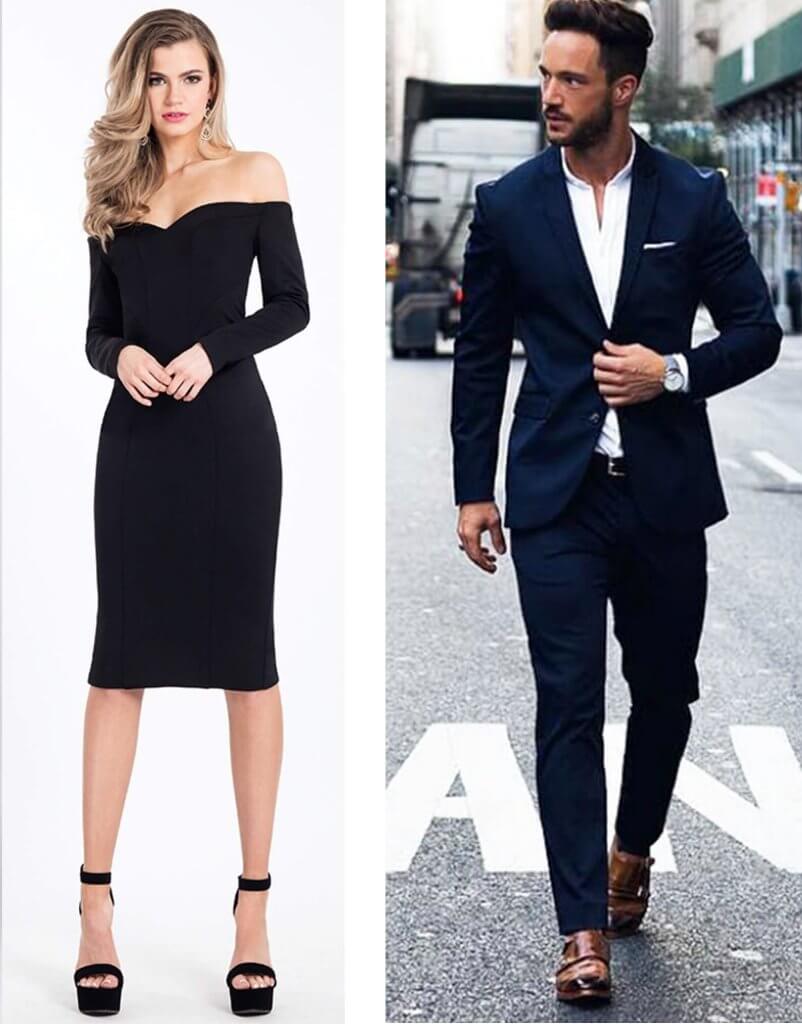 Cocktail
The dress code "Cocktail" means that, here, men can relax and put on a well-fitting and figure-emphasising suit. A tie is not necessary in this case. Women are allowed to abandon dresses that come to the floor in favour of clothes of medium length and even slightly above the knees. A chic suit, too, can be quite appropriate. Any shade of attire is quite acceptable for this type of dress code, with interesting and stylish costume jewellery encouraged. For example, large watches, extravagant jewellery and/or unusual shoes will only complement your image. "Cocktail" is a universal kind of dress code and has much in common with formal styles of clothes.
Lounge Suit
"Lounge" and '"Cocktail" are quite similar, which can lead to some confusion. On the invitation to the royal wedding in the U.K., there were two types of dress code. One of them was "Lounge Suit". For men, it is assumed to include a suit with a white shirt with double cuffs and cuff links, but a tie is not completely necessary (make your choice). For women, this code dress indicates a suit or a dress of medium length made of natural material. Hats are acceptable when you attend an outdoor event or if you are invited to a wedding. The colours of the outfits vary depending on the time of the year.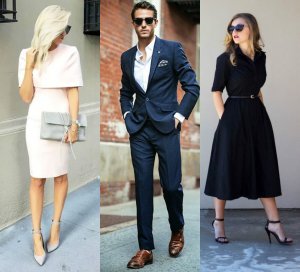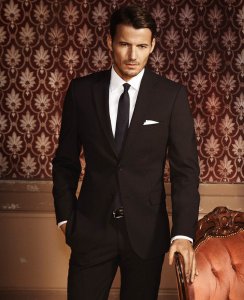 Business Formal
Already, the name speaks for itself. This is the business style of clothing. Black-and-white colour is not principled, but is the most successful. Women have a choice to wear a business trouser suit, a suit with a skirt or a strict dress of medium length, sitting well on the figure. The best way to complement the image is with an expensive bag, with a minimum of bright details. If such a bag is not available, a folder for documents or a briefcase will suffice. Comfortable medium-heeled shoes and vintage earrings or a brooch are also very suitable for this dress code. "Business Formal" is often used for serious business meetings, prestigious conferences and internal negotiations. It is quite appropriate for going to an interview.
Business Casual
This is a simplified version of "Business Formal" and often employed in the offices of various companies. Jeans, here, are forbidden! If the name has the word "business", then the image must remain business and strict. Men do not need to fully wear a suit. It is enough to dress in trousers and a shirt. At the same time, you can add to your image with a tie, knitted blazer or jacket; different in colour from the rest of the ensemble. You can always remove one or two pieces of clothing, as this is quite acceptable. Women can choose fitted suits or medium-length dresses of any shade. With accessories, you can experiment, as bright decorations are often welcomed.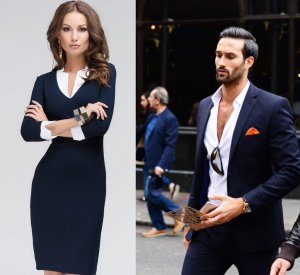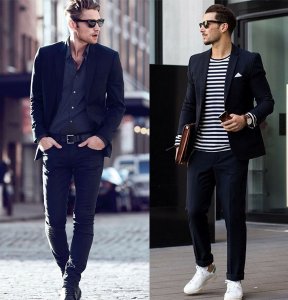 Smart Casual
This dress code is perfect for business meetings in a relaxed atmosphere, shopping trips, visiting cafes and restaurants or guest visits. "Smart Casual" represents elegance and freedom. It would probably be easier to identify the unacceptable things with this dress code: Ragged or worn jeans, short shorts or T-shirts with incomprehensible or indecent inscriptions are out. Beautiful dresses, blouses, pants and skirts are always a reliable option for women. If you really want to wear jeans, you will certainly have to connect them with something elegant (blazer, jacket or shoes with heels). The best image for men would be a smart shirt of any light colour, trousers of any colour and comfortable shoes like, for example, moccasins.
Always try to dress according to the situation, without shocking others in the process. Often times, being more elegant than usual is the mindset that you should be taking.
Naturally, if you are a highly-respected person, attending an event with a strict dress code wearing simple, comfortable attire will, of course, not get you expelled, but you may be glanced at as a "white crow", with subtle whispers emanating from every corner. It is recommended that such a scenario be avoided, if at all possible.