Dmitry Dyuzhev: Life for Love
21/02/2019

Premiere Magazine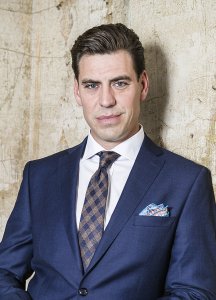 Actors do not become – they are born. Eventually, they become engaged in drama circles, often graduate from theatrical universities and go on to play memorable roles on stage and in movies. Still, the creative path can begin in the most unexpected places, and this is exactly what happened with Dmitry Dyuzhev.
In kindergarten, a little boy learnt an excerpt from Samuel Marshak's poem "That's What Scattered", to read at the festival. The teacher put tights on his hands and a shirt on his legs, put him in a clothes locker and told him to wait for the children to run into the assembly hall. They should have come and experienced a glorious surprise! For a long time, with a sinking heart, little Dima was waiting – alone with his dream, but no one came for him. They simply forgot about him…
This first acting experience did not leave him with bitterness or disappointment. His character was tempered, and a new life began for the sake of love and towards creativity, God, family and profession.
Today, Dmitry Dyuzhev is an Honoured Artist of Russia, an actor in high demand at the "Chekhov Moscow Art Theatre", a singer and a director. He has had dozens of film and theatre roles, receiving many awards at film festivals. As a guest of honour, the popular artist has been invited to the Third International Theatre Festival, "Five Evenings in Cyprus", which will be held from February 20th to 24th. On the eve of this annual cultural event, Tatyana Kasas interviewed Dmitry Dyuzhev exclusively for Premiere Magazine.
Tatyana Kasas: Dmitry, this is our second interview and I would like to talk more about your creative path and work in which you are fully immersed. What dictated the choice of this path and this business?
Dmitry Dyuzhev: My father was an actor of the Astrakhan Youth Theatre and I was imparted with a love for the theatre from an early age. Subsequently, I studied at the school for gifted children. The emphasis was placed on artistic and aesthetic education. I danced, sang and read poems. I even had my own benefit performance. There, I received my first taste of success, applause and laughter in the hall. This, in fact, predetermined my path. A dream was born to go on stage. When I graduated from the 11th grade, my father wished me to go to Moscow and enter the Theatre Institute. I followed in his footsteps and continued the acting dynasty. So, I found myself in GITIS in the directing department (acting group of the Mark Zakharov workshop).
TK: Dmitry, you are a multi-faceted artist. Between the series "The Brigade" and playing the father of Job in the Pavel Lungin picture "The Island", the time span is only four years, during which 23 films with your participation were shot. Now in production is "Tobol", where you are Peter I. What is the secret of such talented reincarnations?
DD: It must be said loudly (smiles) that I just have to fall in love with the story that I have to play out, be it a play or a script or a character. Then, it is as if I am filling out my hero's medical record: what physical data he has, what he feels, what he does and what skills he has. At the next stage of work on the role, studying the dialogues and phrases written by the author, I am already a psychoanalyst, analysing childhoods, actions and thoughts of the past. It's important for me to understand the person I'm going to play. Thus, the image of the father of Job in the film "The Island" was formed from the experiences of my personal pilgrimage trips. On the set, there were two monks from the Donskoy Monastery who approved or didn't approve my every action, from the point-of-view of monastic life.
TK: We are very pleased to see you as an honoured guest at the Third International Evening Festival in Cyprus, "Five Evenings in Cyprus" and look forward to the premiere of the one-man show "Eugene Onegin" on the stage of the Rialto Theatre. Please tell us how the idea of ​​the embodiment of one of the world's most famous classical works arose and why was Prokofiev's music chosen?
DD: At GITIS, my teacher was the national artist and honoured teacher Antonina Kuznetsova. In the fourth year, I won the first prize in a competition of readers and it was then that we decided to create great material. Almost 20 years passed, during which each of us lived our own lives, and then, by chance, we met on the street and Antonina Mikhailovna like this, right off the bat. She suggested: "Dimich, let's do Onegin". So, the idea of ​​the mono-play "Eugene Onegin" was born. We rehearsed for a year, with a detailed analysis of the state of the characters, their feelings, thoughts and motivations. My teacher, who is also the director of the performance, conveyed to me the love for each character of this great novel.
It was very important for us to convey to the viewer and listener the spirit of the era of lush crinolines and daring regimental music, immerse them in the atmosphere of the birthday in the Larins' old family estate, make them recognise two close friends, Lensky and Onegin, and help them witness Tatiana and Yevgeny's touching stories and duels. I live the life of each of the characters in my "game" and it will be easy for the audience to guess who I represent at one time or another.
The action is accompanied by the music of Sergei Prokofiev. In 1937, he wrote it for the play "Eugene Onegin", which Alexander Tairov was supposed to put in the famous Chamber Theatre. The performance never took place, but the great creation of Prokofiev was preserved. Antonina Kuznetsova decided to use it and not the music of the author of the same-name opera, Peter Tchaikovsky, in order not to cause any associations and parallels, leaving the audience's perception completely pure. The piano part is performed by Fedor Stroganov.
We tried to make the performance refined and light, so that viewers would, once again, appreciate the beauty of Pushkin's immortal poetry, and to someone, we may have suggested the right words for a declaration of love.
TK: Dmitry, please share the sensations that you have when you are in the director's chair. For four years and a little, from 2010 to 2014, you made three films – "Brothers", "Moms" and "Champions". This is a special kind of creativity, different in comparison with acting. How do you feel in this hypostasis?
DD: Direction is a completely different feeling, in terms of feeling like an artist. It all depends solely on you. When I was still studying at GITIS at the course of Mark Zakharov, we were  given an opportunity to set up sketches and acting. After graduation, I gained artistic experience, but, over time, stories settled in me that did not give rest. They asked for realisation and fulfilment.
Then, came the difficult time: the crisis of 2008. Many of the pictures in which I starred were stopped and frozen. By the way, in 2008-2010, there were very few people who had a job left. Then, I decided to use this vacant time to get a second higher education, broaden my horizons and make my dream come true – shoot the movies myself. Now, I have experience and directorial work, and the stories continue to live in me and, I hope, I will continue to do my favourite work.
TK: Dmitry, where do you get your creative energy from and are books the source that gives you creative ideas?
DD: Books – yes, definitely! When you go on stage, it's a big responsibility. It is necessary to give everything to the remainder – one hundred percent. You have to do your job to the last breath. It is "To be or not to be!" In this, for me, a source of inspiration is the work of the reformer of theatrical art, Konstantin Stanislavsky and his "My Life in Art". In the director's work, my reference book is Peter Ershov's "Direction as a Practical Psychology".
TK: Finally, the most important thing: What is happiness and what is the meaning of life for you?
DD: Family is in first place in my life. I am aware that all my achievements and victories as an actor, director and public person took place only because I have my home and my own people, and no matter how much I want more, no matter what heights I strive for, I have to distribute my time and energy in such a way that my loved ones get the warmth of my soul…and the meaning of my existence is life for the sake of God, life in God, life in love and life for love.