Cybarco breaks ground on Trilogy
01/04/2018

Premiere Magazine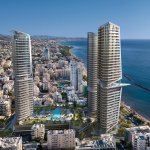 Just weeks into the project's first official announcement, Cybarco has started construction work at the site of Trilogy Limassol Seafront. The company's latest landmark development is in its pre-launch phase and has already received reservations in excess of €25 million for its luxury sea view apartments and offices in the West Tower – due for delivery in 2021.
Brought to life by a world-class collaboration of architects, designers and developers, Trilogy Limassol Seafront is a place to live, work and play in the heart of Limassol.
The project blends the aspirational dream of high-end beachfront living with the sophistication of urban cool, offering a lifestyle experience in one destination.
Its three shimmering towers, combined with a hand-picked mix of private and public facilities, celebrate their location with unobstructed views of the sea from every window.
Michalis Hadjipanayiotou, the CEO of Cybarco Development Ltd., an established company with a success story spanning over 73 years, commented on this latest phase: "Trilogy is an exciting new chapter for Cybarco and yet another unique opportunity to play a part in the city's ever-changing story."
For more information on the luxury apartments and offices at Trilogy, contact 8000 50 30 or visit trilogylimassol.com.