Christophe Chaillou: "Carpe Diem! Enjoy life as much as you can!"
27/11/2019

Premiere Magazine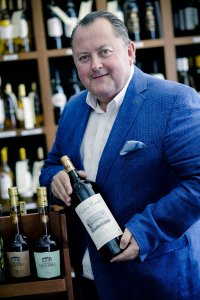 Christophe Chaillou graduated from the International Centre of Glion (Hotel-Tourism: Switzerland). He created the Creative Tours agency in Cyprus which and is its CEO. The company has become a major player in the Cypriot world of tourism. He is a correspondent for most of French speaking agencies, tour operators and tour organisers. Also, he specialises in the organisation of seminars, congresses, conventions, golf trips, etc. He bought-out French Depot in 2009 (an import company of wine/liquor products, plus the creation of 5 Gastronomic shops), with, now, distribution in the most beautiful hotels and restaurants of Cyprus. He also exclusively represents the greatest French brands.
He is, now, the foreign trade counsellor for France, the former president of the Cyprus MICE Agencies Association, the vice-president of Cyprus France Business Association and the vice-president of Cyprus Finance Business Association. He likes spending moments with his friends by gathering around good wines and good meals.
How long have you been living in Cyprus? What did you do in your home country before moving to the island of Aphrodite?
I am a French citizen and I have been living in Limassol since 1985. I was born in Libourne, near Saint-Émilion. Wine is very much appreciated in my family and I was aged thirteen when I started drinking wine and enjoying it. Wine is very much a part of life in France. As a child, I used to remove and collect wine bottle labels; this must have been a sign of my later career. I grew up in Bordeaux, before leaving to study at hotel school in Glion in Switzerland. There, I got a diploma in Hotel and Tourism Management. I did my military service and worked for 2 years as assistant manager with an exclusive hotel group from Provence before coming to Cyprus to get married to a Cypriot lady.
Who did you want to become when you were a child?
I wanted to do something with sports and be a professional football player, then a kinesitherapeute (physiotherapist). Then, I wanted to be a hotelier and, finally, I am a travel agent and a deli and wine merchant. I love networking!
You are from France and we all know that, for the Frenchmen, wine is a special drink, and the wine consumption culture can be compared to art! Who taught you to appreciate and understand good wines?
After my national service, I was ready to start my career in hospitality and worked with the exclusive hotel group 'Relais and Châteaux'. I was the assistant manager at Château Saint-Martin in Vence. It was a boutique hotel with twenty suites. I became good friends with the sommelier at the hotel and he taught me a lot about wine. I actually think he was the best sommelier in France during that time, so I was lucky to work with him.  He was an unbelievable wine educator.
Tell us about your business in Cyprus. How did you come up with the idea to open Wine and more by French Depot (what is the meaning of the name?)
In 2009, I was presented with the opportunity to purchase the original single French Depot boutique in Limassol. The concept of French Depot, back then, was to sell French wines by the case as a depot. We gradually expanded the company and started selling other products and we became luxurious boutiques; so much more than a depot. This year, we celebrate our tenth anniversary and I decided to rebrand the company under the name of Wine and more by French Depot, to be able to upgrade the brand and include other products and wines from around the world.
In which cities does Wine and more by French Depot operate today? What products are you selling?
Since 2009, we have expanded the Limassol boutique and we now have boutiques in both Paphos and Nicosia. At our boutique in Paphos, we also have a wine bar and a purposely designed tasting room. We are focused more on selling fine wines by the bottle. Our market is 40% direct sales to the public and 60% to the trade, including leading restaurants and hotels across the island. We have, today, wines from all over the world for all budgets. We have selected the best wines producers in each country; from simple French wine to the most famous Grands Crus, from Bio to Biodynamic, from Cyprus, Italy, Argentina, Chile, Japan, Spain, Portugal, Greek, New Zealand, South Africa, Morocco, Austria and more. It is the biggest selection and the biggest variety you can find from one place!
We are very keen to promote artisan, traditional food products and import the best cheeses to Cyprus. We buy them from Rungis, the largest market in France, and they are flown to Cyprus within 24 hours. We have over 40 French cheeses, including Truffle Cheeses, Mont Or, Comte, Raclette, Burrata, Brie and Camembert. Our delicacies also include biscuits from La Mère Poulard and chocolates from the world-famous chocolatier, Marquise de Sévigné. We are also the exclusive importers of Comptoir de Mathilde Delis products, Saucissons Henry Raffin, Iberico ham from Blasquez, Delpeyrat-Castaing and Lafitte, French l'épicerie fine items, etc. The top luxury products that France has to offer will always be found at Wine and more.
We also carry an exclusive selection of Cognacs, Armagnacs and Pineau des Charentes. In every boutique, we have a 'whisky and gin' corner, with very rare and exclusive pieces.
You can also find the most prestigious brands, like Cristal, Dom Pérignon, Hennessy, Louis XIII Cognac, etc…
All of our boutiques have knowledgeable, trained staff.  We also have trained sommeliers who are there to advise our customers on their wine purchases.
How do you select your wines and spirits? Have you tried everything yourself?
Today, we have about 3,000 labels and I did not try all of them yet. I personally select all producers according to their profile and experience. We are looking for producers for which we shall have a story to tell. They have to match with my philosophy.
What differs French Depot  from other wine boutiques?
The difference between us and any other wine stores is that we offer MUCH more than just wine with deli and cheeses, with the biggest selection of labels for all budgets and from all over the world.
We are training and educating our clients on a daily basis, whether for wines or food specialities. We are organising a lot of free events for our clients and bringing in a lot of our partners from abroad.
We are the best to organise wine trips, as we combine the expertise of Creative Tours and French Depot. We have a running loyalty programme and gold cards allowing 25% off on our imported wines & spirits products; provided to members of the Wine Business Club Cyprus.
I was lucky to visit one of your evenings and was pleasantly surprised by its format. You treat people to not only excellent wine and a delicious dinner, but also create a special atmosphere, with historical details and stories about the drinks, with some facts about the culture of the region and the country of origin. People also get a chance to communicate with each other! How does one become a member of the 'Club'? How often do you have these wine 'meetings'?
Over 10 years ago, whilst reading a magazine on a flight, I first read about the Wine and Business Club in France. I kept the article, as I really thought it was a good way to bring together people who share a real passion for wine and excellent food. Last year, after speaking with the association in France, I secured the first overseas franchise for Cyprus. The founder of the club, Alain Marty, visited Cyprus before we got started. We have already had 5 events and our dinners always take place on the last Thursday of every month. It is a way to bring like-minded individuals together to enjoy a good meal and taste different fine wines. The tasting is usually discussed in the presence of the winemakers. It is fabulous networking at a high level event.
Do you have a favourite drink?
I am very fond of wine from the vintage of 2000. I really enjoy most wines from Saint Émilion or Pomerol. A special favourite would be a bottle of red wine from Château Montus La Tyre. They have a 2000 Montus Cuvée La Tyre.
Most certainly, I consider Alain Brumont to be one of my wine heroes. He is based in the Madiran region, which is very well-known for producing fine wines. Originally, this area was not destined for great wines, but, over the last 20 years, he has transformed the land. He produces a variety of seven authentic wines. His wine was recently served at the G7 Summit. He has been voted the Best French Winemaker and is also considered to be the producer of one of the top ten finest wines in the world.
Another personality I respect in the wine industry is François Janoueix from Saint Émilion. He owns 11 châteaux and has become a very good friend of mine. He is a great personality and makes great wine. By the way, he will be here for our Christmas event, on Thursday 19/12/2019, for a fabulous evening.
With regards to white wine, I always enjoy a Sancerre from Domaine Vacheron or a Chablis Grand Cru Les Clos from Christian Moreau. The winemaking tradition of the Moreau family goes back to the early 19th century. It has been voted the best white wine in the world and we are very happy to sell it exclusively at Wine and more by French Depot.
Has Cyprus become your home over the years? How do you rate Cypriot wines? Was there any idea to open your own winery and produce wine yourself?
Yes, Cyprus has become my home and I am blessed to live here. I love the lifestyle, the Cypriots and the country, and I have the chance to go to France at least 3 or 4 times a year, so that I don't miss it.
Cypriots wines are very good and are getting better by the year. Two years ago, we decided to make the big move to exclusively distribute the wines of Ekfraseis Winery. We consider them to be amongst the best winemakers in Cyprus and we like what they are doing. Their vineyard is positioned at the highest altitude in Cyprus and they have a great selection of wines. They are the only ones doing a Pinot Noir in Cyprus. Ekfraseis wines were served to President Macron during his recent visit to Cyprus.
Over the 35 years that I have lived here in Cyprus, I have seen a dramatic improvement in winemaking in all the wineries. I will not produce my own wine because I don't have the competence, nor the courage (it is very hard work!).
You have four sons! Would you like them to continue your business?
Yes, I would love to, but the two older ones already have their careers in London, so I have to wait another 10 years to wait for the others.
Some people compare wines to people. Which qualities do you value in people? What do you appreciate in life most of all?
I like loyalty, honesty, sincerity and true people (like me and the full-bodied wines). I like the entrepreneurs who start from nothing and reach their target. "Enjoy life as much as you can!" – is my motto. Carpe Diem!!!
What would you wish the readers of Premiere magazine?
First of all, they are lucky to have such a quality magazine at their disposal in Cyprus with consistency. I wish all the readers to enjoy this little piece of myself and encourage them to come and discover our Paradise Boutiques. If they are wine lovers and like networking, they should join the Wine Business Club, as it is a magnificent experience. I wish them also a very happy festive period!