26/01/2018

Premiere Magazine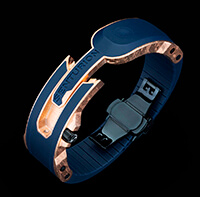 The company Senturion (also the official partner of the Lotus Formula 1 Team) has created a Senturion supercar key which is a high technology device or bracelet made from meteorite deposits aged 4 billion years.
The first elite supercar key appeared at the 4th Amex World Luxury Expo in Riyadh and it is considered to be the most unique collectors' item in the world. Every piece is created as part of a limited edition series of only seven, making it the ultimate statement in luxury lifestyle.
Senturion is the world's first and only luxury wrist-wear of its kind. The main purpose of this bracelet is that it is embedded with RFID technology that enables you to use it as a wireless entry system capable of syncing with the locks in your house, personal jewellery vault and of course your supercar.
Every bracelet passes through seven stages of craftsmanship and machine production and also comes in palladium. The device is the type of high-tech and cutting edge device that one would expect from James Bond 007.
You can become part of an exclusive club within the worldwide community of supercar owners as each statement piece can be synchronised with any of the following manufacturers: Bentley, Ferrari, Maserati, Porsche, Audi, Lamborgini, Bugatti, McLaren, Aston Martin, Jaguar, Lexus, Range Rover.
There are only 500 copies of the highly exclusive smart bracelet available, each of which is individually decorated with engraving. True collectors will be able to purchase a version of the company Senturion V5AST Meteorite priced at 76,000euro. There is a less expensive option the Senturion V2P Palladium for 15000euro, which is made only of palladium.