Angelina Jolie: "My invisible tattoo, My Fragrance, Mon Guerlain"
25/01/2018

Premiere Magazine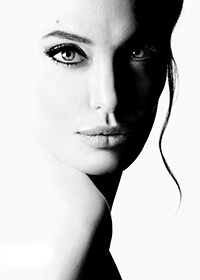 "I am always filled with an imperious thirst for distant lands, the desire to go ever farther, in search of new scents".
Thierry Wasser, Guerlain Master Perfumer
For five generations, the Guerlain perfumer has embodied the hi­story of perfumery and embra­ced it, heart and soul. He has explored the planet in search of rare raw materials. He has invented new, audacious "accords" and created over 1,100 fragrances… Despite his many achievements, he questioned the rules, ignored conventions and revolutionized modern perfumery with Jicky.
"We know every last detail about our jas­mine, our sandalwood, our lavender and our va­nilla, because we buy our raw materials from men and women we have met and whom I have come to know closely over time. Behind our sandalwood in Australia, our Carla lavender which grows at an altitude of 1,300 meters (4,265 feet) in the Provençal Drôme region, our Sambac jasmine in Sout­hern India and our Tahitensis vanilla in Papua New Guinea, there are wonderful people who grow, pick, extract and distill".
"The creation of a fragrance is a work of emotion and intuition. It perpetuates the wonder offered by the beauty of nature when enhanced by human intelligence".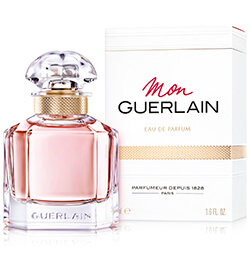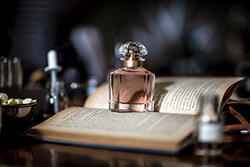 Jacques Guerlain
A name whispered like a caress on the skin. A name that evokes 200 years of history replete with expe­riences, nourished by success, expertise and generosity, illuminated by the pa­ssion of the Guerlain perfumer.
TAHITENSIS VANILLA is the starting point behind the composition work of Guerlain, a favorite raw material inseparable from any Guerlain masterpiece and also present in Shalimar, Habit Rouge and Jicky.
CARLA LAVENDER, despite its classic masculine attribute in perfumery, joins the sensual and mysterious Tahitensis vanilla. It was necessary to find exce­ptional and rare lavender, with uni­que olfactory properties that would satisfy the expectations of Guerlain, the Perfumer.
SAMBAC JASMINE gathered at sunrise, reminds us that femininity is also revealed in the grace of dawn. It is the link that connects delicious vanilla to lavender; it is the esthete that gives this composition all of its finesse.
SANTALUM ALBUM SANDALWOOD expresses the inner riches and resources possessed by all women. It is the wood that gives strength and preserves the mystery of eternal femininity.
Behind ANGELINA JOLIE and GUERLAIN lies a connection spanning decades, originating with her memory of her own mother's love for a Guerlain powder, scented with iris and violet, that her mother kept among her treasured possessions. Angelina recalls its association with qua­lity, elegance and femininity. Years later, this invi­sible link was renewed when Guerlain met Angelina Jolie in Cambodia, where she was directing her fourth fea­ture film, First They Killed My Father. There a partnership began, to create a new fragrance, bringing together Guerlain's living legacy of craftsmanship, quality and expertise with the values, ideals and aspirations of modern femininity, a fragrance overflowing with audacity, panache and mystery. A fragrance for wo­­men who defy categorization, who embrace all that life brings and all sides of themselves, who are comfortable in their own skin and whose guiding spirit is to be true to themselves and to live a life of use to others.