Andri Anastasiades. FIRST LADY
25/08/2018

Premiere Magazine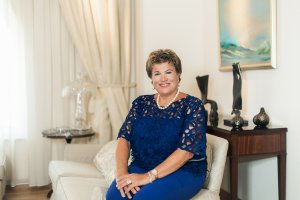 Ms Andri Anastasiades, spouse of the President of the Republic of Cyprus, Mr Nicos Anastasiades.
Ms Andri Anastasiades has been involved, for a long time, in multifaceted social and philanthropic action. Today she is in charge or participates in various charitable foundations and associations, as follows:
Honorary President of the Pancyprian Volunteerism Coordinating Council
Chairperson of the Management Committee of the Radiomarathon
Honorary President of the Pancyprian Association for the Protection of Spastic and Handicapped Children
Honorary Chairman of the Committee for the Support of Children of Cyprus and America
Honorary President of the Avantgarde Cultural Foundation
Honorary President of the Paraplegic and Friends Choir of Cyprus
Patroness of the Cyprus Association of Cancer Patients and Friends
Patroness of the Association "One Dream One Wish"
Patroness of the Cyprus Foundation for Muscular Dystrophy Research
Honorary Member of the Cyprus Ladies Club
Honorary President of "Elpida" Foundation for Children with Cancer and Leukemia
Patroness of the EUROPA DONNA Cyprus Associatiion
Patroness of the Association of Relatives and Friends of Addicted Persons in Cyprus
Member of the Cyprus Federation of Business and Professional Women.
A year ago, I interviewed your husband when he had not been re-elected for a new term yet. Now, you have become the first lady for a second time. What emotions do you have about this?
It is an honour to be the First Lady of the Republic of Cyprus for the second time and there is no greater privilege and challenge than being in public service, but, despite the feelings of happiness following the re-election of my husband, the sense of responsibility towards the people of Cyprus is even greater now that they have trusted our administration to continue what we started five years ago. It has been a very busy period since my husband got elected in 2013 and I am looking forward to working even harder during his second term in office and to contributing to something of value for our people.
Being the First Lady is a constant learning experience. The people's expectations are continuously growing and, personally, I am up for the challenge once again. It was, also, a long and quite emotional electoral campaign and, although I was entirely focused on my duties and responsibilities as the First Lady, still the agony, pressure and commitment during the elections was no different than in previous campaigns.
Has your husband changed since he became president of the Republic of Cyprus for the first time?
As a person, husband, father, even as a politician, he has not changed since he became President in 2013 and this is something that I am very proud of him for. I believe, through his experiences as president, maybe his way of thinking, his decision-making and how he deals with critical issues have changed, but not his character and personality. Today, he is even stronger, more experienced and patient, although he was involved in politics for so many years prior to his election. Following the difficulties that we faced as a country in March 2013, I can see that he has become more sensitive.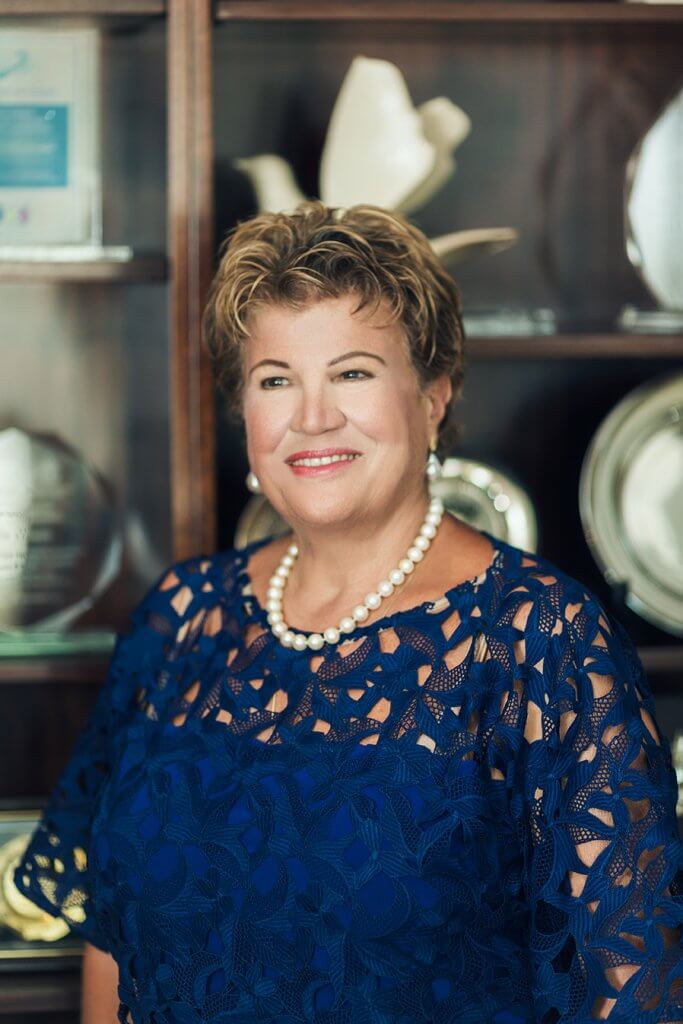 What do you think about politics in general?
I believe in politics. I believe in creating real change through politics; changing the world and the way we live for the better. Politics is defined in many ways. It is important to care about politics and be more involved because it affects our lives. I know that there is a negative perspective about politics nowadays. This is a great challenge for both politicians and the people, especially the younger generations, to get more engaged and to transform what they do not like or approve of something that they trust in.
Do you discuss political issues in your family?
Due to my husband's involvement in politics for so many years and our busy schedule, during our limited family time together, we try to avoid political discussions. When the family finally meets, our discussions are mainly focused on our children and grandchildren and the everyday aspects of their lives: school, their activities, friends, homework, plans or anything else. These are the small things that matter. Of course, there are times that we also discuss political issues and we all share our thoughts and opinions.
What exactly changed in your life when you first became the First Lady?
I have been an active member of our community throughout my life, but there is no doubt that my responsibilities have increased significantly since I became the First Lady five years ago. I am also blessed to be able to closely work, and cooperate everyday, with people whose outstanding charitable work and devotion in helping those in need is truly admirable and this is another great life experience. It gives me so much strength to continue demonstrating our solidarity in a more effective way. Another exciting aspect is when people, especially the young ones, present me with their ideas and new projects, and I like to get involved and help them in promoting and implementing them.
Of course, there is always a negative side, as well, although I always try not to pay any attention to it. Unfair criticism and lies are always painful, but I know that being the First Lady and constantly at the centre of the public eye is part of my life. As long as it does not affect the members of my family, I am always strong enough to deal with it.
How do you feel about fashion and do you think that the first lady should be aware of fashion trends?
My only connection with fashion is the many charity fashion events that I have been involved with over the years, either organising and hosting or setting these events under my auspices. Personally, I do not think that the First Lady should be aware of any fashion trends. My only concern is to be a good role model for all Cypriot women and young girls.
Do you have any favourite designers?
No, I do not have any favourite designers, although I had the opportunity to know, in person, a lot of them, mainly from our extensive involvement and cooperation, over the years, in the charity fashion events that I mentioned above. However, I always try to support young Cypriot designers when they take their first professional steps.
Can you say that you are proud of what your husband does in politics?
Yes, I am proud of what my husband does in politics, not only for the past five years as a president, but from the very beginning of his involvement in politics. Since his election as president, the government implemented various significant structural reforms in all sectors, which enabled the country to overcome the deep economic crisis and return to a path of sustainable growth. In particular, immediately after his election in 2013, I witnessed, first-hand, his noble efforts in addressing some of the most challenging issues for Cyprus and the problems our people were facing during that critical period. From the very first moment, he decided to view the crisis as an opportunity. This is how he faced crises in every part of his political career and this is one of the many reasons that I am proud of him.  However, his vision is that, by 2023, Cyprus will be a free and reunited country and I know that this is his main priority for this second term in office. I wish to assure you of what I see every day: A man determined to work tirelessly in order to reach a comprehensive settlement of the 'Cyprus Problem'.
What, in your opinion, was one of the best moments in your life that you could share with us?
I consider the best moments of my life to be the most important family moments: the birth of my two daughters, Elsa and Ino, becoming a grandmother when Andys, Nicola, George and Nicos were born, my wedding day with Nicos and all those precious family moments; the birthdays, the trips, the school plays – all of them. I also regard all the times that I managed to help, in any way, other people in real need to be special moments in my life, as well. Now, as far as politics are concerned, I would be lying if I did not mention the two times that the people of Cyprus trusted my husband as the President of the Republic.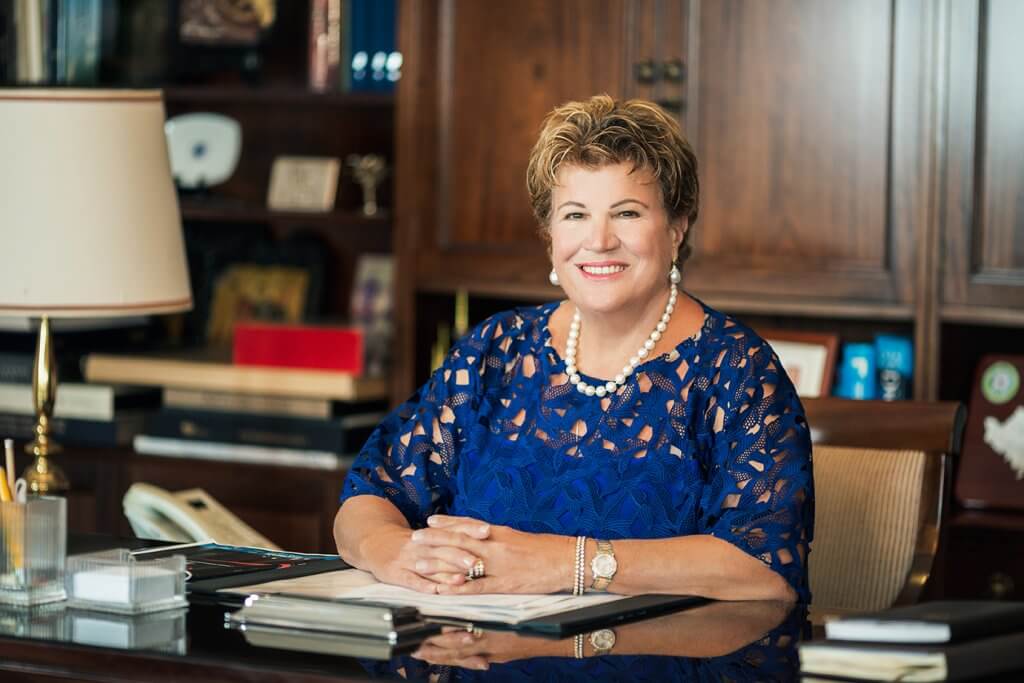 You support many charitable events. Is there any special project you're working on now that you could share with us?
Throughout the years, I was involved in many charitable events and initiatives, even before becoming the First Lady, as a Chairwoman or a member of many charity organisations and foundations. I do not want to single out any specific charity initiative because I consider all of them equally important.
However, there is specific project that we have been working on for the past years and it has been one of my main goals ever since I became the First Lady: To provide, as a state, quality education to our young students. With this in mind, we established the Independent Social Support Body (ISSB), an initiative that provides economic assistance to university students facing many difficulties financing their studies. The ISSB operates in full transparency and with strict eligibility criteria. Given the opportunity, I wish to thank all the supporters of the Body, as well as my colleagues and the ISSB's dedicated team that works tirelessly to help students get the education that they deserve, fulfil their potential and pursue their dreams. Nelson Mandela once said "Education is the most powerful weapon which you can use to change the world". I am enormously proud to say that the Independent Social Support Body financially assisted 1,450 students, with donations totalling to €1.9m since September 2015.
You are involved in a huge number of projects, whether social, cultural or charitable. Do you have time to relax and how do you prefer to accomplish this?
Despite being the First Lady, I live a normal life, but the truth is that there is little time to relax due to the many obligations. However, I always try to 'escape' from my busy schedule, not to relax as you mention, but to see my family and friends whenever it is possible, especially my four grandchildren.
There is a saying that "behind every successful man there is a strong woman". Do you consider yourself the strongest woman behind Nicos Anastasiades?
I know the old saying, but I believe that Nicos, like every man, needed and still needs the support of his wife and family; a support that becomes even greater when you are the leader of a country with so many responsibilities. I feel that this support plays a crucial part in helping him getting through the most difficult and challenging times. Maybe the many years that we have been together and the influence does make me "the strongest woman" behind Nicos Anastasiades.