The World's First Floating Space Hotel Is Coming
09/08/2018

Premiere Magazine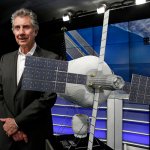 California start-up Orion Span announced its intention to build a space hotel called Aurora Station. The cost of a 12-day rest in a near-earth orbit will be $ 9.5 million. To date, the only space station that hosts visitors is the ISS. For 12 days of stay in the Russian orbital complex, tourists need to pay about $40 million (however, the exact figure is not disclosed). Still, the ISS is primarily used for research activities, so there are no group excursions with it.Orion Span plans to launch its modular space station into orbit in 2021. Its length will be only 13.3 metres and the width will be 4.3 metres, which is much smaller than the 109-metre ISS.

Aurora Station will be used as a space hotel, which can accommodate up to 6 people – four passengers and two crew members. The price paid by tourists for a space trip includes not only a stay in the near-earth orbit, but also a three-month preparatory programme, as well as transportation to and from the hotel. In the near future, the start-up will open a ticket reservation opportunity for $80,000. It is expected that the first guests will visit Aurora Station as early as 2022. The approximate cost is estimated at tens of millions of dollars, but the executive director of Orion Span, Frank Bunger, says that the construction of the station will cost less than the creation of many satellites. He also talks about a possible partnership with SpaceX and Blue Origin. At the moment, the company's representatives intend to dock Aurora Station at an enterprise in Houston (U.S.A.), but the complex itself is not ready yet. Its construction will be completed in 6-9 months.

A similar project last year was presented by Bigelow Aerospace. Its founder, as well as the owner of the Budget Suites of America, Robert Bigelow, plans to launch two giant inflatable modules into space and connect them together to form a private space station that will be 2.4 times larger than the ISS. "We call it Olympus," Bigelow said. "At the launch, it will weigh about 75-80 tons." This station can be rented by cosmonauts of countries that want to work in the Earth's orbit, or space tourists.

Modules will be sent to space in a folded form. When they enter orbit, they will be inflated. The Space Hotel is decorated with dense white plates of impact-resistant materials that will protect against space debris and radiation. Depending on the cost of the flight, which will be assigned by SpaceX and other companies, living in the module will cost 'seven or eight figures', if Bigelow's plans are not hindered by China and NASA.

In addition, China is developing a rocket plane for space tourism, which will be able to take up to 20 people on board.

The cost of one ticket for space tourists is expected to be about $200,000 – $250,000. The truth, in this case, is that passengers will visit space formally, as the flight will pass slightly above Kármán line.

China plans to launch its orbital laboratory as early as 2022 on very favourable terms, so it will be difficult to compete with it. NASA is also going to stop the work of the ISS in 2025, under the decree of Donald Trump. After this, the agency will annually allocate between $3 and $4 billion dollars for flights to the moon and Mars. The problem is that NASA has been helping investments in private companies, including SpaceX and Bigelow Aerospace. In addition, the companies had a consistent direction to enter orbit – the ISS. If NASA stops operating the ISS and does not continue to work with investors from private companies, many of them may find themselves in a difficult situation. In that case, the BSO modules would have to remain on Earth for an indefinite period.