Stanislav Andonov: "Moving up …"
07/12/2018

Premiere Magazine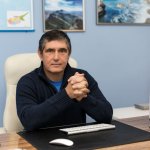 Today's Premiere Business guest is co-owner of the Russian Wave radio station Stanislav Andonov, with a very inspiring story about what an almost random investment can grow in four years.
On February 1st, "Russian Wave" will be 13-years-old. Under your leadership, the radio station has been operating for 4 years. How did the idea of becoming a co-owner of a radio station arise?
By chance. We learned that a radio station was being sold, we became interested and we decided together, with my long-time business partner, Cypriot Fanis Pantelidis, to try it as a new investment.
Do you not regret it?
(laughs) I did not regret it, but it turned out that buying a station is not enough because it is not a toy! You need to develop it! You spend time, energy and money on it. When we started in 2014, it was a Limassol radio station in the city. Over the years, we have grown to a federal level, with coverage throughout the island and, today, we are known, listened to and (regardless of whether we like it or not), we are considered an important player in the Cyprus media market. After all, what is "Russian Wave"? It is actually the Russian Wave Mass Media Group, which includes two federal radio stations (RW and Energy NRJ), the Komsomolskaya Pravda tabloid newspaper in Cyprus Internet portal and the popular 60 Seconds Project all over the world – great intellectual entertainment! We also bring Russian films to Cyprus. Our company, KinoCypRus, showed on the big screen "The Crew", with Danila Kozlovsky, "The Collector", with Konstantin Khabensky, animated films for children, etc.
How does the radio station position itself today?
We are trying to be interesting to all Russian-speaking residents of Cyprus and those who come here to relax. They listen and actively participate in competitions and events of the radio station. Our main language of broadcasting is Russian. As for music, living in Moscow, I, myself, listened to rock and radio stations working in this direction, but the choice of the "Russian Wave" format was not based on my musical preferences, but on the collective opinion of the collective and was intended for our main audience (mostly female), and females are different here. They are not the same as in Russia or Ukraine. People who have left for permanent residence abroad have a different mentality.
We took into account the factor that there is no underground in Cyprus. Public transport is poorly developed and people mostly travel in private cars, but, again, they listen to us on the road, not for hours standing in traffic jams, but for a short time. Therefore, we need dynamics! We focused on talk shows. Today, we have three 'live' programmes on the air. This is the full morning show, with Yevgeny Mironov and Irina Apolonova, the daytime show Bonjour, Huts and Lampshade, with Yulia Vertovaya, and Vecherny Promenade, with Jana Lagus. When the conversation on the air is interesting, it is engaging. The studio constantly has different guests, from politicians to show business stars. There are fascinating interviews and discussions about acute and interesting topics that will not leave anyone indifferent. We also have dozens of authoring programmes, including "Cinema News", "Avtonews" and "With an Island for You", 5 news releases daily and a poster for cultural events. At the same time, we try to stay out of politics, maintain neutrality and be objective, not imposing our opinion or allowing ourselves to be led by others.
Our radio station is distinguished not only by a saturated broadcast, but also by a demanding attitude for our own product. Our DJs are professionals, with many years of experience in radio, TV and journalism. In addition, they are public people who are constantly within sight and this also requires dedication!
13 – the age of a complex teenager. How are relations with the team?
To begin with, the number 13 I have liked from childhood and it never scared me. I consider it happy. As for the team, this is our main value! Team cohesion is the key to success. Without this, everything falls apart. Russian Wave is multinational. Our employees come from Belarus, Russia, Ukraine, Moldova, Latvia, Ireland and, of course, Cyprus. The atmosphere is friendly and democratic. Subordination, of course, we observe, but we communicate on "you". Everyone can come to me with his/her problem, call at any time and I am ready to listen. I, myself, try not to disturb employees during off-hours, but it does not always work.
We already have our own traditions. For example, we always celebrate birthdays together in our office. We set the table like at home and we try to please the birthday man/woman!
Tell us about your partner/co-owner of RV?
I have been acquainted with Fanis Pantelidis for more than 25 years. We have several joint business projects, including the French confectionery chain La Croissanterie and several restaurants. So, I can say that we went through "fire, water and copper pipes" together, trust each other and literally speak the same language. Fanis studied in Russia and knows Russian very well.
Are you often trying to control everything yourself or do you easily delegate authority? Do you sleep with a radio under your pillow?
(laughs) No, it did not come to that, although, as you understand, the radio works for me all the time. I am not an ordinary listener, but a meticulous critic, which are two different things. I spend at least half a day every day at work. I can also come in on the weekends. In matters of control, I try not to take on everything myself. I think that's right.
Many people remember the project "Russian Wave" in honour of the 12th anniversary in the concert hall "Monte Caputo". Then, you arranged for us an amazing disco of the 80s with such pop stars as Ace of Base, Bad Boys Blue and Joy! Are you planning to hold such events in the future?
This evening was made possible thanks to our friend Alexey Zheved, who organised the event, for which we are grateful! Concerning the holding of events of this scale in the future, there are thoughts! Moreover, there are unique opportunities! In early 2018, we launched NRJ Energy Cyprus Radio in Cyprus, becoming one of 20 countries in the world representing this world-famous brand (note: The NRJ Group is an international multimedia group founded in 1981 that broadcasts in Europe, North and South America).
The idea of ​​opening a radio company came to us after we felt fulfilled in the media market of the island's Russian-speaking diaspora. I wanted to declare myself more loudly and offer Cyprus a new format because the main slogan of Energy NRJ radio station is "Hit Music Only". Therefore, it can be listened to by Russians, Cypriots, the British, etc…
This radio station, like Russian Wave, is federal. It broadcasts throughout Cyprus in Greek at a frequency of 99.0 FM (in Limassol and Nicosia) and at 94.4 FM in other cities. NRJ's DJs include our Cypriot stars. Hovig is the singer who represented Cyprus at Eurovision 2017. Dena is a connoisseur of music history and we have resident of the Limassol club Guaba, Mr. Styles, as well as stars of Cyprus television, Georgia and George.
This year, NRJ DJs were, for the first time, invited to Cannes, where every year (for more than 20 years) the biggest event in the world of music in the 'old world' is held. The NRJ Music Awards are analogous to the Grammy Awards. The roads in the city are blocked, helicopters are patrolling the sky and, on the streets, you can meet the most famous musicians and show business stars.
Now, we in Cyprus can plan concerts with the participation of "celebrities", which are the faces of the radio station, such as David Guetta, Ariana Grande, Ed Sheeran, Pink and others! Cooperation with NRJ opens many doors for us!
Do you plan something new in the near future?
Of course! Russian Wave is launching a new joint project with one of the leading developers of Cyprus – Property Gallery. You will soon find out the details.
What do you value in people?
Openness and democracy.
What do you not forgive?
Frank betrayal.
Do you have any pets?
Yes, of course. I belong to the half of humanity that loves cats. We have a "British". Unfortunately, it does not listen to the radio, but likes to watch the TV.
How do you relax?
I love the theatre and live music concerts. Over the past three years, there has been an "explosion" in Cyprus in terms of the volume of events focused on Russian-speaking people. It is good because there is plenty to choose from. For this, we should all be grateful to Atriamusic, Maxim Mazurovsky (Russian Evenings in Cyprus), Elena Boris (NCY Cyprus) and others. Personally, I was particularly pleased with the concerts of "Bi-2" and Yuri Shevchuk and the groups "Leningrad" and "Time Machine".
What would you wish for your listeners and yourself in the New Year 2019?
I would like to wish, for the Russian-speaking residents of the island, that our diaspora not be torn apart by inter-ethnic troubles and other issues. Cyprus wishes for unification. This will reflect positively on all of us…and, by the way, they are listening to us in the occupied territories because the island is small.
In the New Year, I wish you all health, peace, prosperity and tranquillity! Take care of your loved ones! As a co-owner of two federal radio stations, I would like to wish for continued success. As a media group, we have come a long way. All these years, we tried to move only forward; not horizontally, but vertically. It was a "move up"! Now, in order to develop further, apparently, it is necessary to move to a qualitatively new level. For example, to open another radio station – a Greek one…and there are such thoughts!
Interview by Polina Malysheva