Baria Alamuddin: "Happiness is always looking for something to make the world better!"
09/06/2019

Premiere Magazine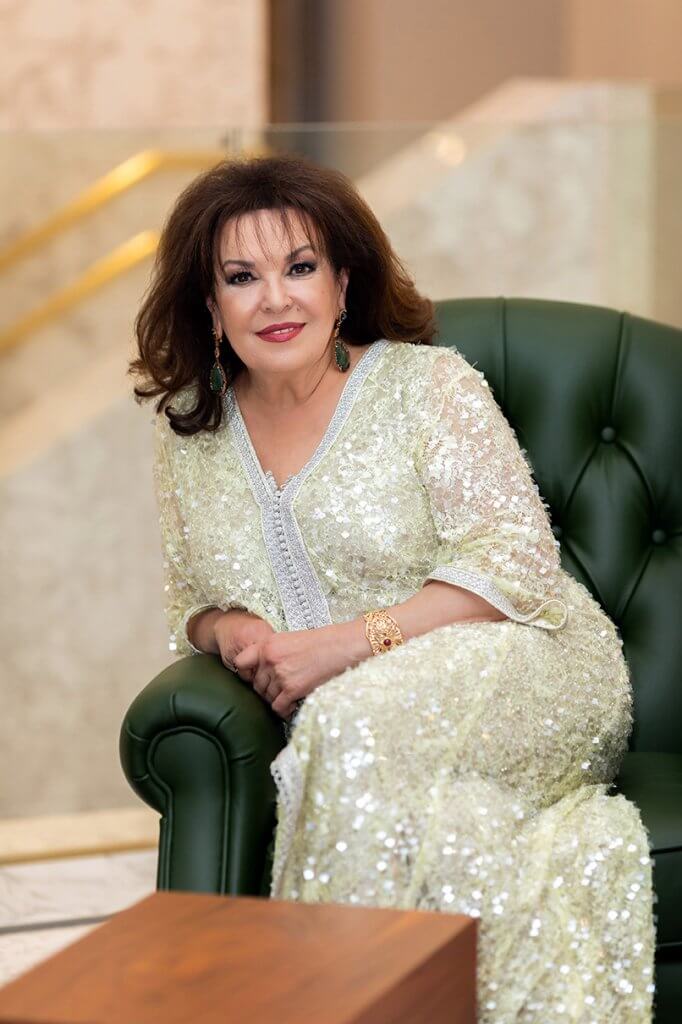 An award-winning journalist who works in the UK & in the Middle East, Baria Alamuddin is the editor of the news organisation Media Services Syndicate, a prominent freelance writer and the legendary journalist, who specialises in interviewing powerful heads of states, including President Hosni Moubarak, King Hussain of Jordan, Prime Minister Tony Blair, President Bill Clinton, Prime Minister Margaret Thatcher, President Fidel Castro, Indian Prime Minister Indira Gandhi and many others.
Recently, Baria Alamuddin was invited to Cyprus as a speaker and honourable guest of the 5th International Creative Women conference in Limassol.
When and where did your interest in politics start?
I started working, at the beginning, as a feature journalist and, at the same time, I started getting more aware of the world around me and of the lack of human rights, getting really obsessed with justice and truth everywhere, not only for people in the Middle East, but all around the world. If there was a problem, for example, somewhere very far, we would go and demonstrate and I would lead the demonstration. I wanted to be a lawyer. However, at the University of Beirut, they did not have Law. Therefore, I studied Mass Communication and Political Science, which led me to having more and more interest in politics. I found politics more intriguing, more interesting at that stage of my life than woman's issues and fashion.
You were lucky to have interviews with the great leaders and heads of states, not only from the Middle East, but also from the Far East, Europe and America. Who has left the deepest trace in your heart?
It must be Indira Gandhi. I was the last journalist who interviewed her before she died. I spent the last 2 days of her life with her. I was very young and she was a mature woman and she treated me like a daughter and she took care of me, sort of thing, and presented me with a sari from her and silk carpet from Kashmir. She talked to me about things that she liked to do. She let me to go much deeper into her mind and soul. She told me that India is a big place. It is one of the most densely populated countries in the world, after China, and there is the extreme poverty there. The lack of an education system, the caste and religious system and, now, they have the far-right system. The women could bring it together, she said, and that made me respect her a lot. She was simple, but great. There was no pompousness about her. She taught me that modesty is greatness, and they are equal.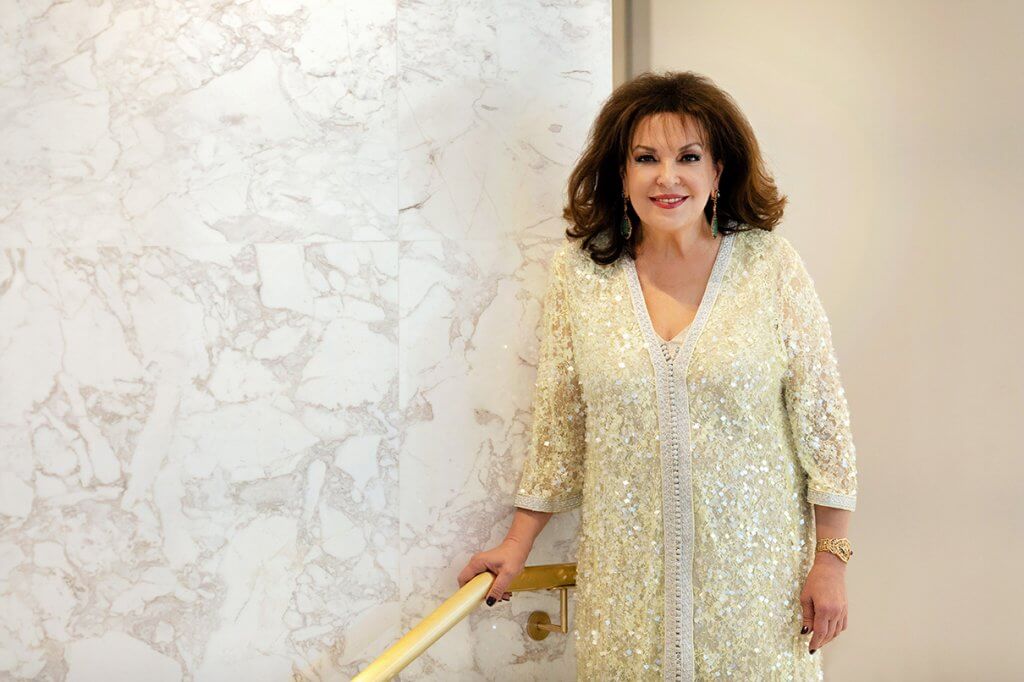 You had an interview with the first president of Cyprus, Archbishop Makarios. How did it happen?
This was one of the biggest stories in my life. As a first president, Archbishop Makarios was very much loved, but there was a coup against him and Makarios disappeared. The whole world did not know where he was and whether he was killed or alive. I was a very young journalist from a small country and I came to Cyprus and went to the hotel called Ledra Palace where I stayed with all of the other journalists, working for the Washington Post, New York Times and Der Spiegel – big names! My magazine was not famous. They were all sitting in the bars and drinking, and, every single day in the morning, I woke up and came in, wearing my black dress and thinking if I would see Makarios today. I was sitting next to the Ministry of Information and waiting – from 9 o'clock a.m., and the fifth day, the man from this office took pity on me and said: "Ok, you deserve to see President Makarios, not those people sitting in the bar!" And, I met Makarios – he was a wonderful man and I talked to him about the coup and about relations with Lebanon – there are many similarities between Lebanon and Cyprus. I insisted on taking a picture with him, and the photographer took a picture in front of me in a black room in the water – if you remember how they used to make pictures in the old days.
Therefore, they said me: "You cannot publish the picture, but you can show it, so I went to the bar and I held it up to all of the journalists – and the whole world took this picture and we could publish it only in 2-3 days.
Now, we have huge problems with the refugees. How can we change the negative opinion of the people? I could not imagine what these people have to come through, until I watched the documentaries about Syria myself at the festival.
Refugees are people like me – they saw war, they saw people die and they are lucky enough to survive. Can you imagine you're seeing the one you love dying in front of you? But, this is what happens in wars every single day. As you know, people swim and die or pay whatever. They borrow money to come on a dingy or inflated boat and risk their lives to live the better life.
Unfortunately, the news doesn't tell the good stories, but if you think of the leadership in Germany, where Angela Merkel took 700-800 thousand Syrians, she took very educated people, who are working hard as doctors, lawyers, teachers or musicians. However, there is always "a bad apple" somewhere, maybe one or two, who can create problems. This does not mean all of the refugees.
And, there must be a solution for that. What I think? The very rich countries, such as America, France, Germany and England, should not only help the immigrants, but try to create jobs instead of ruling them and taking away what they have. When you take the goods from the people (diamonds, gold, oil), you take everything and don't give them back anything – that is bad! If the West, America and the powers of The Security Council's five members would veto, they could stop wars and major conflicts around the world. But, it's power and money, and greed. We need more a just and more loving world that stops grabbing at other people.
Do you have your own recipe for happiness?
My grandchildren are the great recipe of happiness (smiles). The last ones are going to be 2 in June, and it's a discovery every day (note: twins Alexander and Ella – the children of Baria's elder daughter Amal, with her husband, Hollywood actor George Clooney). But, happiness is deeper than that! Happiness is always looking for something to make the world better. Creativity is happiness. I wake up early and I sleep late and never have enough time, so I'm always trying to be creative in how to spend time. I am very lucky because I have not only an amazing family, but also amazing friends from all over the world. I know many Russian friends. They are lovely people. I love Russian ballet and I can die in Moscow watching the Bolshoi! So, there are so many things to be grateful for in life!
But, it doesn't happen automatically. You have to make it happen. You have to work on your relationship with your family or with your children, or with your friends and your carrier. I want to write a book to tell how I got my interviews because, in my days, it wasn't as easy. In England, journalists are more important than the Prime Minister because it's a democracy, but, still in my country, your country and many others, journalists are not so lucky. You have to be very creative and almost a genius to get what you get!
I remember I was at one conference and I pretended that I was invited to the cocktail-party, and I walked in and posed with Margaret Thatcher and I spoke to Reagan, and a guard let me in because I didn't even look at him, as I was worried he is going to see that I was not invited. These things you have to be ready for…You are not a bad person, just seeking and creative in how to get to all this! It was really tough, but I enjoyed it!
If there is a person you would like to interview, who would it be?
There are many people that I would like to interview for different reasons, some of them because I am intrigued by their mind and greatness, some of them because I can't make them up because I feel they are really utterly stupid, like some of the world leaders. Unfortunately, after working as the political journalist for a long time I have developed this scepticism about politicians. I am always impressed by scientists and academics because I feel there is more truth to them.
Being in front of God, what would you like to ask him and what would you like to tell him?
I'd like to ask him to have justice and to get rid of the entire world, to stop all the wars and not to have any poverty. I want everyone to be eating well. Education is very important, so I would ask him to have schools. I just don't want diseases as well – my mom died of cancer. Many things I would ask him. I hope he will listen!
You are journalist and you know the power of words. If you had to choose only three main words, what should they be?
Justice, Truth, Love…and compassion – without compassion there is no love! Compassion and love always go together!