Antonis Polemitis. UNIC: in step with the fourth industrial revolution
30/06/2019

Premiere Magazine

CEO and Member of the Council
Teaching Fellow/Digital Currency MSc
School of Business, Department of Economics and Finance
UNIVERSITY OF NICOSIA
The University of Nicosia (UNIC) is the largest university in Cyprus, and the largest in Southern Europe that teaches primarily in English, with more than 12,000 students from 70 countries. Located in Nicosia, it maintains teams in numerous cities worldwide. UNIC is driving educational innovation in the wider region, with activities like its dynamic global initiative in blockchain technology and its centres of excellence in medicine and online/distance learning. UNIC is ranked among the top 100 universities in the Emerging Europe and Central Asia (EECA) Region for 2019 by QS World University Rankings.
Please tell us a little about UNIC's ties to the local and international business community? How impor­tant are these collaborations?
UNIC maintains close cooperation with local businesses across the island, including the thriving Russian-speaking community primarily based in Limassol. Local employers account for a large percentage of our working graduates, and we are in direct contact with both individual employers and industry associations to ensure that our programme offering is in line with their expectations and needs.
The same applies on the international front, where we are particularly active, with international employers representing the biggest growth opportunity for UNIC graduates. In this domain, we are connected to remarkable employers, particularly in medicine and blockchain, from the US, the UK and Western Europe, who are aggressively recruiting our graduates.
Overall, such ties to the business community are especially important today, with employers increasingly demanding that graduates can assimilate into their workforce as efficiently and effectively as possible. We are fully cognisant of the fact that a UNIC graduate is now expected to interact and transact with their colleagues the world over throughout the course of their career. Given that, we are continuously updating our programmes of study, incorporating input from both global and local employers.
How does the University prepare its graduates in today's demanding workforce? How do you ensure your programmes stay relevant amid such rapid change?
As noted above, we have a direct line to the local and international business community, which allows us to factor in their evolving requirements, as well as work in a manner consistent with their future direction.
Our faculty are highly responsive to employer feedback, working between what is often a balancing act in learning between theory and practice — the latter of which is indisputably useful to employers. In this way, our programmes do, indeed, stay relevant at a time of rapidly accelerating technological development.
Moreover, the University, as a whole, is oriented to, not only responding to, but to positioning itself at the forefront of exploring this change. In terms of staying ahead of the curve, we employ multiple methods to reflect employer feedback and broader technological change: applying problem-based learning in many of our programmes; encouraging student internships; establishing industry advisory councils for our programmes and schools; and offering ongoing professional programmes that can be more targeted to practical skills than core degree programmes can and should be. It is important to UNIC that we help our students prepare to be successful in a global work environment.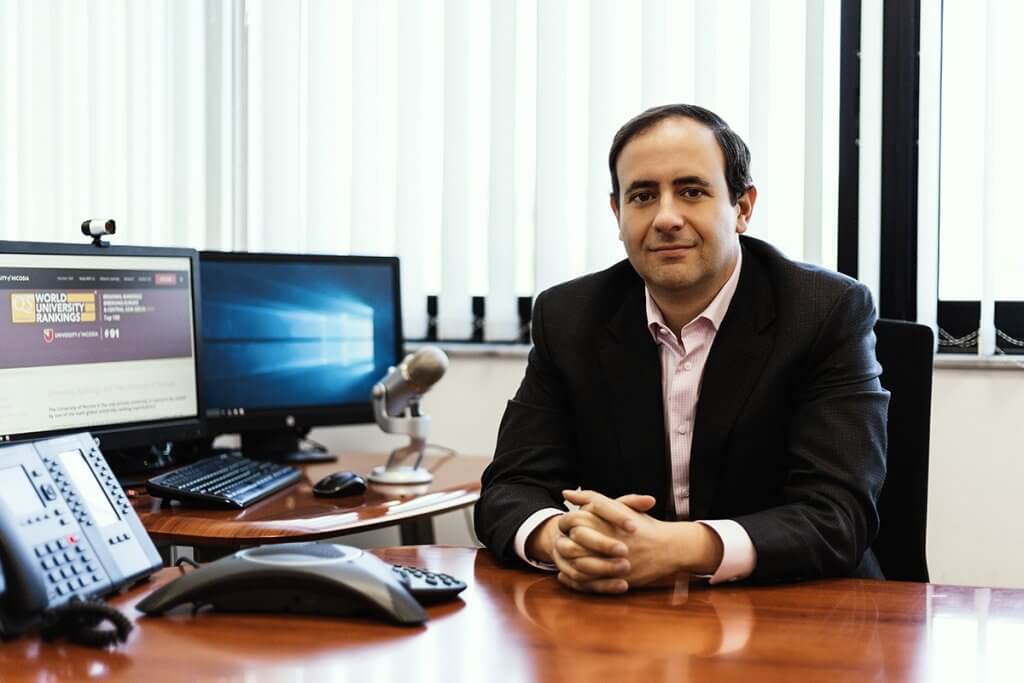 In what ways would you say UNIC stands out in the international arena? What are your biggest differentiators from other overseas universities?
We believe that we have entered a period of rapidly accelerating technological development, with significant implications on the horizon for all facets of business and life. With that in mind, we consider it critical to embrace and fully explore cuttingedge technological change, its application and the implications, and to incorporate our learnings in our research, in our teaching and even in our own operations.
This underscores one of our biggest differentiators; namely, our focus on, and engagement with, the rapidly changing technologies of the 4th Industrial Revolution, which includes our leading status in blockchain education and research, as well as our inroads in Virtual Reality, Artificial Intelligence and in other areas. In the area of blockchain technology, UNIC is widely regarded as the leading university in the world, being the first university to launch degree programmes in this field. UNIC now has the largest team of students, faculty and staff working on this topic area in the world.
A second differentiator is our ability to establish successful partnerships with extremely prestigious universities for teaching and research. A prime example of this is our joint Master's degree programme with the Moscow State Institute of International Relations (MGIMO), which will launch in September 2019, and through which students will split their time between Nicosia and Moscow, ultimately receiving degrees from both universities. Other examples include our partnership in Medicine with St George's, University of London, in Law with Aristoteleion University of Thessaloniki, in Public Health with the Karolinska Institute, and in Human Rights with the University of Padova and Zagreb University, and so on.
Two more differentiators relative to other universities which I should mention are oriented around: (a) our studentcentric orientation; and (b) the affordability of our total cost of attendance, relative to peer universities in the UK, the United States, Canada, Australia and New Zealand.
We heard about the University's recent recognition by Times Higher Education. Could you tell us more about the various rankings UNIC has achieved and what these signify?
We are incredibly proud that UNIC is the only private university in Cyprus to be ranked by one of the main global university ranking organisations. The three most widely followed university rankings are the Academic Ranking of World Universities (ARWU), the Times Higher Education World University Rankings (THE) and QS World University Rankings (QS).
UNIC ranked in the top 100 universities of the region in the QS World University Regional Rankings. More specifically, QS World University Rankings ranked UNIC number 91 in the Emerging Europe and Central Asia (EECA) Region for 2019. This is noteworthy in a region characterised by dynamic growth in Higher Education, which counts over 26 countries (among them, the Russian Federation, Czech Republic, Hungary, Poland, Croatia, Romania, Estonia, Lithuania, Turkey and Ukraine), and in which approximately 1,800 universities operate. Moscow State University (Lomonosov) is the number 1 ranked university in this particular ranking.
UNIC was, indeed, recently recognised by Times Higher Education (THE) in their inaugural ''Impact Rankings'', which is the first to measure global universities' success in delivering the United Nations' Sustainable Development Goals (SDGs). We ranked among the top 201-300 universities for Quality Education and in the top 301+ universities overall. This is a ranking focused on sustainable development contribution and we are happy that our wider social and economic impact was also recognised in this way.
On a more general note, we are constantly investing in and working towards enhancing quality on all possible levels, which is reflected in such achievements and a vital part of our ongoing journey to excellence. Indeed, we are already hard at work, having set our sights on our next ranking milestone and hope, over the next few years, to have successful results.
We hear about the ongoing effort to evolve Cyprus into an international education hub. What part does UNIC play in this? Tell us a little about your key internationalisation initiatives in this context.
As you may have understood from the above, UNIC is intensely focused on internationalisation. In many ways, we were the first university in Cyprus to demonstrate that it is possible to attract a substantial number of high quality international students to a university in Cyprus. In fact, today, we have thousands of international students from all corners of the world, which is a testament that Cyprus could indeed be a global destination for Higher Education, not to mention an undeniable mark of confidence in UNIC.
More generally, we believe Cyprus has tremendous potential as a university destination and have supported this case for many years now, factoring in the overall experience for students, who benefit from an appealing, safe and rapidly developing environment in which English is widelyspoken. Our systematic approach to internationalisation and our encouraging results should give great confidence to decision-makers and stakeholders in Cyprus. More specifically, we can point to the evolution of our student base over the past ten years, from over 90% Cypriot to less than 40% Cypriot.
Our key internationalisation initiatives that have resulted in this evolution over the past decade include: The creation of the first medical school in Cyprus, which welcomes students primarily from the United States, Canada, the UK, Australia, New Zealand, Israel and Lebanon; our joint degree programmes in Greece, offered in collaboration with leading public universities there, and attracting academically excellent Greek students; and our world-leading blockchain/cryptocurrency programmes that primarily attract students from North America and Western Europe.
With the above initiatives, we are clearly making the case that establishing the island as a global destination for high quality university-level education is a viable and appealing objective for Cyprus.
What do you consider as UNIC's biggest challenge in both the short- and long-term? By the same token, what is the University's biggest opportunity ahead?
The largest challenge in the shortterm for UNIC is completing our transition to a fully international destination university. Today, after Cyprus and Greece, our top 10 student cohorts are mainly from North America and Europe. We look forward to continuing to improve the quality of academic programmes (and academic and career outcomes for students), as well our research output and our student experience (both oncampus and online), in order to be recognised more broadly across the world as a world-class destination university.
In the longrun, we think all universities will be challenged by the rapidly changing technological environment. This impacts both students and alums (who will be expected to continuously learn over the course of their working careers), and universities, which will need to manage the faster cycles of change that must be reflected in course materials and delivery mechanisms that are relevant to a new generation of students, working adults and alumni.
Conversely, the biggest opportunity for UNIC is the exact same two areas. The future of Cyprus as a high quality university destination is dependent on the efforts of universities like ours and, on a global scale, I think that the universities that successfully navigate the shift to the rapid cycles of our new technological environment will be very appealing to students, researchers and employers.