Angelina Fitoz:"I look forward to global changes in everything and everyone"
05/06/2021

Premiere Magazine

Lawitt Hamilton Tax & Legal is an international boutique consulting group with offices in Russia and Cyprus.
The first office of the company, that existed before the rebranding in the format of a closed law firm, opened in 2012 in Moscow. In 2017, the Cyprus representative office was successfully certified, and today Lawitt Hamilton is one of the few Russian-speaking companies in Cyprus that has a license from the Securities and Exchange Commission (CySEC) to conduct fiduciary activities.
Flagship practices of the Cyprus office of Lawitt Hamilton:
Legal support for FX/blockchain/EMI business.
Fiduciary services for companies.
Setting up and managing family offices.
Ensuring the proper legal substance for Cypriot companies.
Lawitt Hamilton's Cyprus office management is CySEC certified and has extensive experience in fiduciary services. This is an integral competitive advantage of the company and a guarantee of high-quality customer service.
In 2018, Lawitt Hamilton entered the TOP-5 rating of the Russian publishing house Kommersant with a fintech practice; in 2020, the co-founder of the company Angelina Fitoz was included in the Best Lawyers rating for a tax law practice. Lawitt Hamilton is also a permanent legal partner of the American Forex Brokers Association Financial Commission and chairs the Legal Committee of the Russian Society of Plastic and Reconstructive Surgeons.
The owners and management of Lawitt Hamilton regularly act as media experts. The company conducts continuous research activities in the specialised market, and also takes an active social position in legal pro-bono services to charitable foundations.
Lawitt Hamilton Co-Founder and Managing Partner Angelina Fitoz has kindly agreed to speak with us about a woman's place in a predominately male business world, and the importance of a personal brand and the main factor of success.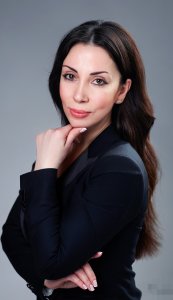 How did your journey into the business world begin?
Accidentally. I never had any Napoleonic plans to create my own law firm and become a boss. In 2012, I returned to consulting as Managing Director of the Moscow office of a well-known law firm. On the very first day of work, employees with a long history of internal corporate conflict came to my office. I gave myself time to sort out the situation without emotion – and after almost six months I led the main role of the team and established my own company, leaving the owners of that company to deal with the conflict further.
It was a responsible decision. Because in any business we are primarily responsible for people, not for numbers. Figures and incomes are made by people – this should never be forgotten.
What do you think is the main factor of your current success?
Personal commitment by the founders of the company and an extremely personal, individual approach to every client's case.
We conducted a survey among our clients and received unexpected results – each respondent felt that he was an exclusive client to the company and everyone, from partners to junior lawyers, were only concerned with him. This is the "boutique" approach, that we have been practicing and improving for many years.
You have a business story with a "woman's face". How do you feel in the male business world?
I try to do everything to continue to feel like a woman even in a male business world. This is my conscious choice as a woman with oriental roots. I do not set, and will not set, myself a goal to become cooler than my male colleagues, to overtake and jump over them. And you know, I believe that this is the most correct approach. I just try to do my job very well, with passion and love, and this always resonates well with my male colleagues, many considered as competitors.
Nowadays everyone is discussing the importance of a personal brand for a company owner, and even more so for a woman. Do you think that every company should have its own face?
I think this is very important for small law firms, like we consider ourselves. People come to a legal boutique not for a rating or for a century of history on the market. No, they go to a specific professional, as a rule, to the founder, in order to entrust him with the most intimate story. For almost 10 years of the company's existence, we have honed not only professional skills, but also communication skills with clients. Each of them is pleased when the "face of the company" deals with him personally and his problem. This results in the best advertisement and motivation to contact us again.
Career at the expense of personal and family life: yes or no?
Not anymore. It was very difficult at the start; my child grew up almost without a mother. But I did everything to create the right balance, because any imbalance affects the very essence of a woman. After all, we were created primarily in order to make our family happy, fill the house with the right energy, support loved ones, prepare delicious food and give a good mood. It took me several years to achieve this balance, and this, I confess, was the hardest work – working on myself.
Do you have lifestyle solutions on how not to burn out from work?
Yes. I come home, turn on cool music and start cooking; I take a ticket and leave for a couple of days; meeting with friends; I go to the gym and swim; I go to the dance hall and dance. That is, everything is very simple: you need to put work in the right part of life, and not life – a small piece of work.
Are you ready to take risks? And how often do you have to take risks in your business?
No, not very often. Our business is, in principle, fraught with risks for customers. And we, like tailors or chess players, first calculate steps and probabilities seven times, and only then make a decision.
What helps you make the right decision in difficult situations?
Ability to leave the problem "overnight". Even if it is urgent, it is very important to do everything to reschedule the settlement to the next day. As evidence shows, the most correct decisions are made with a fresh mind.
Are there things in business that you fear?
In business, as in ordinary life, I hate betrayal and one-sided games. I can't say that I'm afraid of this, but I really can't stand it and, as a rule, in the end, I say goodbye to people who allow themselves to do this. Such moments and people have a devastating effect on me and everything I do, although over the years I have learned to quickly recover.
What is the main thing for you in life?
Be happy. There are a lot of components here: the health of mine and my loved ones, the happiness and success of loved ones, and so on.
The best, most valuable advice that you were given – and who gave it?
My son. He once told me that we have to live every day as if all our dreams have already come true.
What do you expect from the future in connection with the current situation in the world?
As Viktor Tsoi sang: "Our hearts demand changes". I look forward to global changes in everything and everyone.