Alexey Shashlov: "There are advantages to business here!"
09/01/2018

Premiere Magazine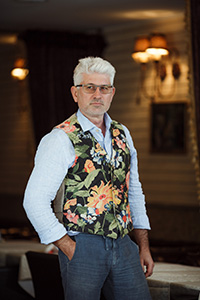 What brought you to Cyprus?
It was an interesting and long process. In 1994, I was invited to Cyprus to visit a childhood friend of mine, who still li­ves here. I liked it so much that we began to come here on a regular basis, using this place as a holiday destination. Then, we bought an apartment here and, since 2004, we have been here on a permanent basis. Of course, every­thing was in its infancy in those days, but there were some big prospects in the development stage.
This is a great period of time for you, gi­ven that your company has expanded its sphere of inte­rests and moved beyond the con­struction business.
Indeed, over the last 5 years (2011- 2016), the company has grown and now it includes our Vikla Golf Club, the pro­duction of mosaics, a pharmacy and a ca­fé, "My Miniatures", as well as various events that we organize or sponsor.
Is it possible to regard it as a hobby transformed into a business or vice versa?
It probably can be viewed as a hobby morphing into a business. I wanted to do something that did not exist here. Then, things naturally flowed smoothly from hobby into business. This, for exam­ple, is true of Vikla Golf Club. I played golf and had the opportunity to actively in­­vest in this effort, which I hope, in 5 years, will bear fruit and will succeed. It will be a very interesting place.
What do you follow when selecting new areas of interest for inves­tment?
First and foremost, I evaluate the need
for so­mething. For example, as was the ca­se with the pharmacy business, there was a need to be filled. We know that, in Cyprus, there is a fairly large Russian-speaking Diaspora and medicines, which are widely used in Russia, cannot be easily found here. It is unlikely that Cypriots think about specifically licensing Russian drugs and then bringing them to the island. Therefore, it was decided to create a pharmaceutical company and deal with the licensing of these drugs and their subsequent sales. So, we created our first pharmacy. It is clear that we de­liver our drugs to other pharmacies also, but, hypothetically, the goal of this project is the creation of several private pharmacies.
What, in your opinion, are the advantages and disadvantages of doing business in Cyprus?
In my opinion, as a Russian, there are only advantages. The only thing lacking here, I think, is a proper wage system so that people can earn enough to eat and live. Still, management, taxation and communication with all authorities (fiscal and administrative) are quite advantageous, informal and fluid, which is unlike Russia. This country is small and everyone seems to know each other. If you live here for more than 5 years, then you know everything and everyone.
What is your prediction about the development of Russian bu­sinesses in Cyprus?
As I said, Cyprus is a remarkably fer­tile region in the area of taxation and in terms of communication, especially in the management of any company from outside. Here, you will find very inexpensive offices and no traffic jams. In Moscow, I had to dedicate 2 hours a day in each direction in order to get to work. I think not only for developers, but ge­ne­rally for all companies, particularly for IT and ForEx companies, it is a great place, with such a great climate. It is almost in the centre of Europe and this means that you can easily invite programmers from outside of Cyprus to work here. So, the return of Russian companies, as it was in the 90s, is recommended now, especially those who have the ability to control their company from the outside.

What do you think is the secret of a successful business?
The secret of a successful business, in my opi­nion, can only be in a maximum effort, 24 hours-a-day. I honestly don't know any successful businessman who would answer it differently. Every entre­preneur constantly thinks about what he's doing and how he builds different models. This is happening regardless of the time factor. The mental process goes on without interruption because the business is the head and the hands are a staff who understand you and who don't need to be pushed. There is no need to constantly explain to them what to do.
How do you feel about criticism?
I have a very good attitude towards criticism. I practically do not accept it be­cause, frankly, I don't remember it ever being constructive or serious.
Your company is involved in ma­ny important events on the island. What's next this year?
We try to support all important events happening here, as a charitable action and activities aimed at strengthening friendship between Russians and Cypriots. This year, in honour of the anniversary of victory in the Second World War, from the 6th to the 10th of May, we will host a series of events, including a rally with biker clubs of Cyprus.
As well, there will be a concert program, which will intro­duce "Vestnik Kipra", in collabora­tion with Rossotrudnichestvo. Many mo­re events are planned and will all be held at Molos, Limassol. Now, we are trying to get the T-34 tank, which is in the possession of the Armed Forces of Cyprus. I would like to put it up for all to see and make it a key exhibit of the occasion.
Do you have any dreams that you have already implemented?
Yes, I'm learning to play the saxophone (laughs)…and, everything else still needs a keen eye to be kept focused on it. It is still early to speak about some­thing. At the mo­­­­ment, we are implementing only what has already been started.
Success to you, Alexey, in your projects!