Alexey Andrievskiy. Gold of Fools. EBB
07/12/2018

Premiere Magazine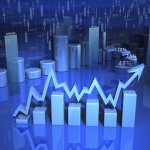 Today, I will begin my story with a topic about the cyclical nature of stock markets and touch on the issue of the psychology of investor behaviour.
During a period of economic recovery, investors are usually more inclined to take risks and, at this moment, we can observe a phenomenon of growth for all stocks on the stock exchange, without exception, both with good economic indicators and without, as with a large loan portfolio and with a positive balance of equity. In truth, it is only during a period of economic recession and correction in a 'low tide' market that investors truly are evaluating the value of assets. As the famous American investor Warren Buffet sarcastically remarked: "…only when the tide goes out do you discover who has been swimming naked."
I will refer further to the quotations of Warren Buffet, since, in addition to being a surprisingly subtle satirist, he accurately conveys the main point of classical investment philosophy.
To tell you the truth, I had not previously digested the words of Mr. Buffett, but, over time, I began to understand more and more about his philosophy and main ideas for ​​investing, namely:
Never invest in a business that you do not explicitly and implicitly understand.
Do not simply buy shares. Instead, buy businesses with a prospect of growth in the next 5-10 years.
When investing, it is better to be confident in a good result than to hope for a great one.
So, I began to search for my own stories and what I liked. I was not looking for indices or prices or bright headlines, but a business that would fascinate me and that would be interesting to explore, while making investments in it for the next 5-10 years.
A COFFEE/CHOCOLATE TALE
This is, perhaps, the first story to which I devoted a huge amount of time 15 years ago.
I studied everything, from the coffee and cocoa varieties to the growing locations to how the parasites that eat these noble fruits look and the prospects for development of the cocoa and coffee industry in Asia. I came across a most interesting realisation, namely that there was huge potential in the Asian market (in particular China) as a consumer of coffee and chocolate. For me, it was a big surprise that present consumption of these products in China is negligible. At the same time, the fashion of many Western and some other Asian countries to demonstrate high consumption of coffee and chocolate made me believe in the correctness of the idea to invest in such companies as Nestlé and Barry Callebaut.
Nestlé – is the largest food producer in the world, with a diversified portfolio, including its coffee and cocoa segment. It has an aggressive policy of conquering the Asian market and has been very successful. The company consistently pays dividends and has the highest credit rating.
Barry Callebaut – is a Swiss company and one of the leaders of the world chocolate market. Headquartered in Zurich, the company is specialised, with growth of shares at 1000% within 15 years.
These companies quite easily made it through the 2008 recession and remain the main stocks in the portfolios of my clients.
PHARMACEUTICAL HISTORY
Are you interested in medicines of the future? How about gene therapy? Then, discover the leader in gene therapy: Novartis.
Novartis is a transnational pharmaceutical corporation, the world's second largest pharmaceutical company and an organisation with the second largest market share in Europe for the manufacturer of pharmaceutical products. The company operates in 140 countries and is headquartered in Basel, Switzerland.
In July 2018, the company decided to close their research centre dedicated to the development of antiviral and antibacterial drugs (in San Francisco) in order to optimise their research activities and concentrate on creating drugs for the treatment of oncological diseases (gene therapy), as well as initiating new research in neurology and ophthalmology.
In my opinion, Novartis has an absolutely fantastic future and I hope that, thanks to its efforts, the cure for cancer will become a reality in the near future, which should bring good profits to the shareholders of the company.
MINE HISTORY
The mining sector has always been very interesting to me, as it was my principle area of study while attending the Leningrad Mining Institute. In this narrative, I really like everything about the gas industry and gas liquefaction technologies. The strongest surge in activity in this segment has been witnessed within the last year. The transition of cargo sea transport to clean fuel, environmental friendliness and the possibility of transportation by special vessels across the ocean make gas a unique fuel product.
Chesapeake Energy Co. could be identified here, as they are one of the industry leaders. I also like the Swiss company Transocean, the largest contractor in the world for offshore drilling. The company specialises in leasing platforms to oil and gas companies. That is, the company specialises only in traditional methods of oil and gas production. It is not by chance that I make such an emphasis, as I believe that the extraction of shale oil and gas cannot have long-term prospects due to a lack of proper logistics, as well as the use of methods that pollute the environment.
For long-term investments and for conservative clients, I would keep my eye on my two regular and favourite companies, Rio Tinto and BHP Billiton, which are among the three largest mining companies in the world, with a large diversified portfolio and high dividends. By the way, this year, Rio Tinto paid out, to its investors, 6.39% dividends per share.
The above information is not a recommendation for buying stocks, as these are just examples of my personal stories. There should be as many such stories as possible in your investing life, since diversification is the main principle of protecting your portfolio during a period of volatility.
Most importantly, after the onset of the next "tide" in the stock market, you will remain afloat and not be found bathing naked with the "minnows".