28/08/2018

Premiere Magazine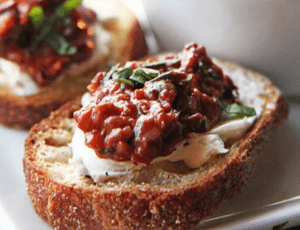 Crostini with tapenade and goat cheese from Wolfgang Puck
Ingredients:
French baguette – 1 piece
Goat cheese – to taste
For tapenade:
Olives and pitted olives – 1 glass
Tomatoes (large) – 2 pcs.
Garlic – 1 clove
Anchovies (fillets) – 1 piece
Capers – 1 tbsp.
Green parsley, thyme, basil, oregano – ½ tbsp.
Olive oil – 50 ml
Cooking method:
All ingredients of the tapenade, except olive oil, are loaded into a food processor and, in pulse mode, are chopped into large pieces. Continuing the grinding, gradually add the oil. Transfer the mass into a container with a lid and cool.
Baguette pieces are browned in the oven at 200 degrees for 5 minutes (either dry it in a toaster or fry in a dry grill pan).
Adorn the crostini obtained with the tapenade and immediately serve with goat cheese.
Oysters with butter from Emeril Lagasse
Ingredients:
24 oysters, washed and divided into halves
Soft unsalted butter – 10 tbsp.
Grated Parmigiano Reggiano – 2 tbsp.
Chopped parsley – 2 tbsp.
Chopped garlic – 2 tsp.
Chopped chives – 1 tsp.
Hot sauce and salt – ½ tsp.
Black pepper – ¼ tsp.
Lemon juice – 1 tbsp.
Cooking method:
Oil, cheese, greens and spices are mixed into a homogeneous mass and placed in the freezer. Distribute washed half shells of oysters onto a baking sheet, placing shells down with the oysters on top and pour the cooled oil mixture over them. Cook the oysters on a well-heated grill for 4-6 minutes, until the oil starts bubbling. Serve hot.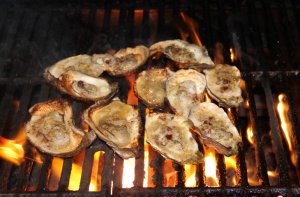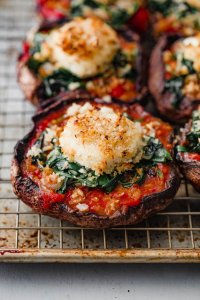 Royal Champignons Portobello with goat cheese from Jamie Oliver
Ingredients:
Royal champignons – 8 pieces
Olive oil – 2 tbsp.
Onions – 2 pieces
Spinach – 20 g
Butter – 30 g
Breadcrumbs – 100 g
Garlic – 1 clove
Marinara sauce – 100 ml
Goat cheese – 120 g
Black pepper and salt – to taste
Cooking method:
Put the champignons mushrooms onto a well-oiled baking sheet, with salt and pepper. Bake for 20-25 minutes at 220 degrees, periodically draining the juice.
Pre-heat half the butter in a saucepan. Fry one cut onion in the butter until soft, then add the spinach and cook for a few minutes on medium heat before seasoning with pepper and salt.
Fry the second finely chopped onion in the remaining oil, add breadcrumbs and crushed garlic. Stirring constantly, brown the mass to a golden colour and then pour onto a plate.
On a baking sheet lined with parchment paper, lay the mushrooms and fill each with marinara sauce, spinach and onion. Put pieces of goat cheese and the dry mix on top. Bake for another 10-15 minutes at 220 degrees until golden brown.