Nicolas Shacolas. THE HISTORY of a GREAT SUCCESS
31/03/2018

Premiere Magazine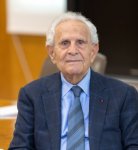 Nicolas Shacolas is the founder and president of NKS Group, the largest private corporation in Cyprus, with a staff of several thousand people. Since its founding in 1953, the company has grown into a mega-holding organisation that includes retail, telecommunications, real estate, infrastructure, transport, logistics, automotive business and investments. The company's portfolio includes facilities such as Debenhams, Super Home Center, Volvo, Mall of Cyprus, My Mall Limassol, the new airports of Larnaca and Paphos and a luxurious golf resort in the village of Limni, on the northwest coast of the island. In total, NKS Group owns more than 3.5 million square metres of real estate. Shacolas Group is widely known in Cyprus for its charitable projects, implemented through the Nicolas and Elpida Shacolas Foundation. Among them, there is the Shakolion Educational Health Centre (4.5 million Euros), the School of Medicine at the University of Cyprus (9 million Euros) and many others.  In an interview with our magazine, Nicolas Shacolas talked about his emergence as a businessman, his most successful projects and the secrets of a long and active life.
You are an absolutely self-made per­son and started with practically no capital. How did you manage to build such an empire in just a few years?
I would not say it is an empire, as this is an exaggeration, but I will tell you a little bit of my history. I was born in Karavas 90-years-ago (1927), where I went to elementary school. My grandfather was a local merchant in the district of Kyrenia. In those years, he was a small building contractor who built schools, churches and houses. With his brother, he built the Dome Hotel in Katsellis (Kyrenia), which is now known as the Big Casino. My great grandfather was also a merchant in Karavas Lapithos in the 1820s. In those years, there was a Greek revolution against the Ottoman Empire in Greece. My great grandfather was the leader of the community. He was arrested by the Turkish representatives of the Sultan for supporting the revolution in Greece and brought, by the Turkish soldiers from Karavas, to Nicosia all the way through the mountains. They put him in prison with the Archbishop — another Greek leader. So, as you can see, in my family, there were always leaders who wither were merchants or always stood for something. I had a preference to become either a lawyer or a merchant.
When I finish my secondary schooling, at that time, my father had just built a factory by the sea, in Agios Giorgios village, near Kyrenia, which is still there. It was (1943-1944) the time of the Second World War. I wanted to go to Britain to study law, but because of the war, nobody could get out of Cyprus. So, I went to work in my father's factory. We used to produce Alpha-Pirene oil, which is mostly used for producing good quality soap. I became a manager of that factory.
When I started my own business, my ca­pital was only 300 pounds, which I earned while working in the factory. In 1953, I created my own business. I was exporting dried apricots to England, barley seeds to Libya and wooden railway sleepers by barter and bringing to Cyprus cement from Egypt. It was a very successful business. These three operations brought me a lot of money. This is how I became a successful businessman.
I believe it was the biggest deal of your life?
This business was the biggest take-off for me and encouraged me to move forward more.
Your business range includes trading with cars and different equipment, fashion and beauty, agriculture, insurance, retail trade, golf courses and many others. How do you manage to be personally involved in all of this, as each sector requires different knowledge?
Cyprus is small country, isolated and surrounded by the sea. If you have business sensitivity, you have to be involved in many activities, but I think that I am a good organiser, first of all. I have this talent of organising anything that I decide to do. The most important thing is to employee wellexperienced and professional people, even if they are expensive. The professionals cost much more, but produce much better results.
How do you supervise all of these projects and carry them to success?
For every project, we employee the right consultants and the right people to as­sist us, follow up on every project and, of course, we have a good setup, which is in control of everything. We just give our directions. Nowadays, I have very experienced colleagues. I am very much proud of my son, Marios Shacolas, who studied in England, France and  the U.S.A. He worked in many different countries. At the moment, he is a CEO of Shacolas Group of Companies.
How could you manage all this without neglecting your family? Did you sacrifice something to achieve what you have now?
If you want to succeed, you have to sacrifice something. I have not enjoyed life as other people should enjoy. I missed many happy moments in my family life, but, anyway, I am very happy with my life.
You were born in Karavas (Kyrenia District). How do you feel about the fact that the place where you were born is now inac­cessible? What would you wish to happen to change this?
For centuries, Cyprus had been occupied by stronger empires. The last one was the British. The place where I was born and grew up and where my father is buried I have not visited since 1974. I want to keep it in my memory as it was in those years. Certainly, I would like to have a workable solution of this issue, but, as you know, by the agreement signed in 1960, Turkey has the right to have 650 troops in Cyprus and the right of intervention. From our side, we do not want to have any foreign troops on our land. This is the difficult situation.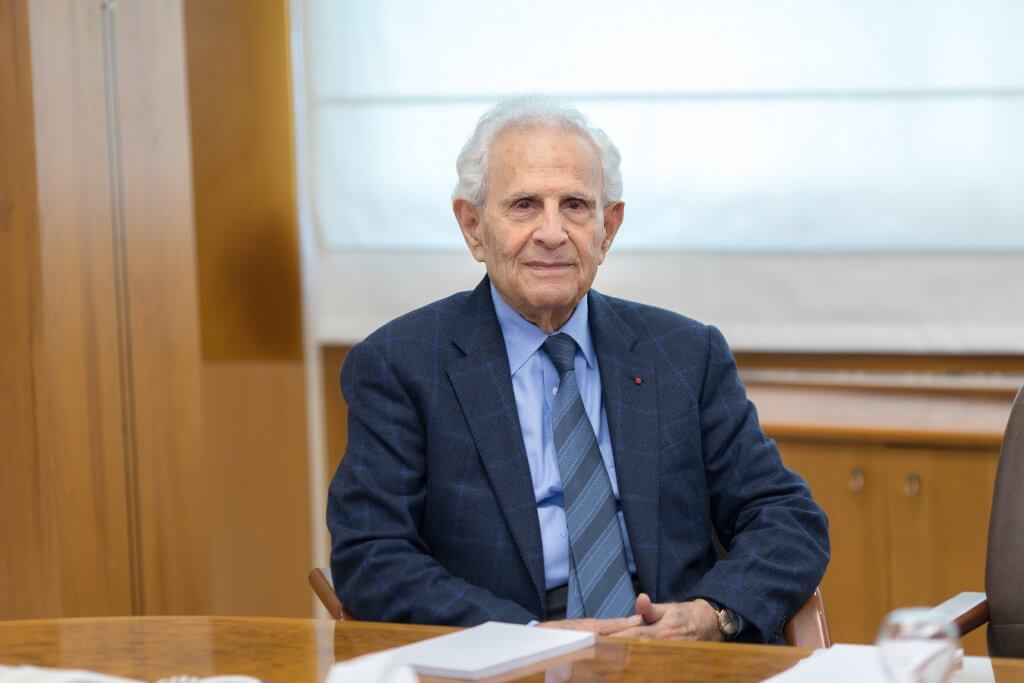 You have a half-Russian grandson. Do you try to speak Russian with him?
I have two beautiful grandsons Nicolas, 6½ years-old, and Alexandros, 3½ years-old. I have no problems communicating with them, as they speak fluent Greek, English and Russian. Their father, my son Marios, speaks fluent Russian, as well as English, French, Greek and Spanish. I love them very much.
Your son's wife is Russian. Does it help you to understand the Russian culture and Russian traditions more?
Very much! I know a lot about the history of Russia and I have been many times in Russia and, of course, because of our family relation, we are very proud (my wife, me and the whole family) that we are related to the Russians.
What would you like to call your biggest achievement and what would you like it to be remembered for?
Whatever we have done with my family and my colleagues, we did with devotion, love and passion. So, whether it was small or big, we believe it was very important. Certainly, there were some special projects which we created with a lot of difficulties, but they were very satisfying and useful for the country.
One of the projects was the creation of the first floating cement factory in the world, near Nigeria. In order to minimise the expenses, like transportation, loading and nationalisation by the military governments, we decided to build it in the sea. The factory was absolutely free from any pollution. Americans came to us with a request to sell it, but I refused, so they rented it from us for a very good rate. The ship started from Nigeria to New-York (to the Hudson River), but, unfortunately, along the way, there was a very big storm and the ship sank. That was a very unique project. Another project was the building of the first big malls in Cyprus, like Olympia Malls and other huge commercial centres. The, there was an involvement in creating and building Larnaca and Pafos Airports, in 2001- 2002.
We are still the major Cypriot shareholder of Hermes airports and have the rights to run the operation there until May 2031.The project cost was 750 million Euros. It was very useful for our country and very much contributed to the upgrading of tourism and travelling to and from Cyprus. I am very proud of this achievement.
Now, we are starting two world-standard golf courses, created by the best designer in the world, near Polis. It is called Limni Project, where one luxurious hotel and about 100 villas near the sea will be built. We have already received the first license and we will start it this year. The total investment will come to over 1 billion Euros. Another project is the new tower, with more than 50 floors towering over the seaside of Limassol.
Are you considered to be the biggest company in Cyprus?
We are the biggest private employer, after the government, and one of the top seven business groups in Cyprus, including banks.
You have never been involved in politics. Yet, all politicians respect you and ask for advice from you. What do you think is the reason?
I have been approached by politicians many times. The first was the President of the Republic, Makarios III. My answer was: "I like to do what I do. If I join in politics, I will not be able to create more". Several times, I was offered ministries, but never accepted. From time to time, we do exchange ideas.
What is the secret of your long and energetic life? Do you take good care of your health?
The secret is to be moderate in everything and to resist temptations around you. I was able to resist!!
What would you wish to our readers?
I was very happy to meet you and thank you for this opportunity to express certain ideas. I wish, to your readers, with the commencement of the new 2018 year, happiness, health and prosperity and to enjoy their life in Cyprus!